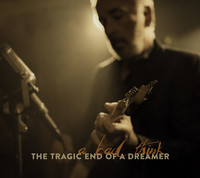 A Bad Think's "The Tragic End Of A Dreamer" is a glorious sea of sound. Merging together a wide variety of styles from dream pop to shoegaze nicely anchored by an alternative rock structure, the songs teem with life. Over the course of the album a narrative begins to form, with each song representing yet another snapshot of a life. By opting for this approach the lyrics gain great power. Easily the highlight of the album, the vocals help to give the album a true sense of purpose. Veering from guarded optimism to a sense of hope, the way the songs unfurls has a natural quality to it.
Opening the album off on a cinematic note is the sweeping work of "No Way Out". The attention to detail the song provides creates a stunning look at a constant buildup of the sound, one that at times possesses a nearly mystical quality to it. Powerful rhythms and riffs define the emotionally charges work of "Win Or Lose". Rather gorgeous in nature is the tender spirit of "Pray For Him". Spacious in nature is the glimmering nature of "The Animal". Easily the highlight of the album is the soaring emotions of "Walk Away". Imbued with a sense of purpose the song is executed flawlessly. Closing the album off on an introspective note is the hush of "Amnesia".
"The Tragic End Of A Dreamer" is a mysterious lovely work one that shows off A Bad Think's ability to create graceful highly tasteful pieces of pop.
By Beach Sloth