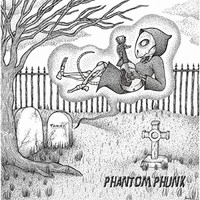 Begun in 2014 as a songwriting partnership between friends Hector Alexander and Sasha Cheine, Phantom Phunk soon evolved into a four piece who woodsheded their blossoming material for a year before entering the studio to record their debut album. The result of those efforts, Arboles Ossific, is a ten song debut due to hit the public in November of this year. The band's eclectic mix of approaches and styles poises them as one of the most imaginative and motivated alternative/progressive rock outfits to emerge in recent memory. There's a rawboned immediacy surrounding this recording thanks to the band's obvious talent for sonically presenting themselves; it creates a feel like the band is literally playing mere feet away and that crackling live attack, combined with the sheer quality of the band's collective and individual performances, makes Arboles Ossific one of 2016's best, admittedly late, releases.
URL: http://www.phantomphunk.com
It kicks off with startling vitality and force. "Snowy in Florida" The voiceover heard in the song's opening gives listeners a clean idea about its subject matter – the wave of gun-fueled violence and mass shootings that has scarred American culture in recent years. Vocalist Sasha Cheine's voice matches the immediacy of the musical attack with little effort and benefits from Hector Alexander's backing vocals. The voiceover additions continue to crop up throughout the duration of the song and are superbly integrated into the song's challenging arrangement. Phantom Phunk have an invigorating progressive rock edge with daunting twists and turns propelled forward by the guitar and drums, but its rambunctious attitude is as far removed from the world of Rush, Yes, et al, as a listener could possibly imagine.
"Sip of Wine" is marvelously evocative and takes a slow, deliberate tempo to unwind over its three and a half minute duration. It's also a stark stylistic turn from the album's first track and Cheine's vocal, largely sans any backing this time out, delicately phrases the suggestive lyrics in a manner that maximizes their sentiment and overall impact. It builds to an impressive finale that gives Cheine a chance to explore the higher end of his register. We're back to more avant garde ground with the album's third song and single "The Unheard Spirit Symphony", but it's likely a more remarkable listen for how well the four piece melds that progressive sensibility with genuine pop excellence. As heard in the preceding song, Cheine's upper register peaks provide an added thrilling note to already powerfully delivered material.
"Brother's Keeper" opens with some slightly dissonant acoustic guitar with a moody tenor that's quickly doubled by an electric guitar line gliding over the top. The lead guitar work, particularly near the song's end, is quite fiery and further deepens the mood. As the song title indicates, "Tommy's Cosmic Avocado" isn't one of the more mainstream cuts on the release. It has the same measured tempo heard on some of the earlier cuts surrounded with a hazy, dream-like ambiance that the band never allows to defocus the wonderful musicality of the track. It is also the album's longest song, by far, and shows they have enormous ability to sustain much longer compositions.
This is the sort of album capable of rehabilitating the baggage typically attached to the progressive rock label, but it's far more than that. Despite the sheer plethora of different sounds and voices fueling these songs, Arboles Ossific never sounds scattershot or patchwork – it, instead, demonstrates astonishing unity of sound and intent.
9 out of 10 stars
FACEBOOK: https://www.facebook.com/Phantom-Phunk-812842432163858/timeline/
Jason Hillenburg