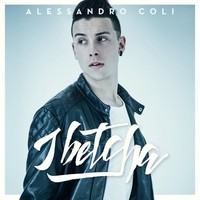 Italian pop star Alessandro Coli solidifies his American standing with the release of his latest single "I Betcha". His European career is distinguished by the sudden and stunning success of his 2011 single "Sento Che" which topped Italian radio charts in a little more than a week and remained in the Top 30 for over a month. Sony Music released his first digital EP Senza Paura shortly thereafter and it enjoyed the same rousing success. His recent single "Flames" hit number 22 on the Billboard Dance Club Songs chart and its success opens the door for further American success. The song "I Betcha" seems tailored for such a momentous second step with its substantive lyrics, low-key yet confident and emotive vocal, and a dance beat that engages listeners in a physical way. This nineteen year old is poised on the brink of great success and "I Betcha" is just the track he needs to ascend even higher than before.
FACEBOOK: https://www.facebook.com/alessadrocoliofficial/
The track opens with a sparse keyboard line before a cymbal flourish brings listeners into the song proper. The drum machine backbeat never sounds sterile and cold. Instead, it provides "I Betcha" with a pulse that bounces with considerable life. Percussion, bass, and keyboards are the instrumental engines driving the song onward. The track clocks in at a little over three minutes and it's two minutes in before we hit an airy, expansive bridge. It is quite clear that "I Betcha" is fresh and sincere, but even clearer is that the artistic vision most responsible for its success is the clarity of construction that enables the audience to immediately connect with the material. "I Betcha" has a particularly evocative final quarter when the beat returns and the arrangement closes things up on an appropriately climatic note.
Coli's vocal is, unquestionably, the highlight of the song. His phrasing is what will draw your attention and he varies his delivery in interesting ways throughout the course of the song, sometimes slowing down for emotional effect while other times pushing the lyrics with a clipped, syncopated style that will please many. The song's lyrical content is completely accessible, but it also speaks to the listener with plain-stated eloquence that, frankly, isn't a calling card of many dance and pop performers. There is no question that Coli wants his listeners to move and have a great time. There's equally no doubt that he wants them to feel and relate.
This single is the likely prelude to his first full length release, as yet untitled, that will likely emerge in 2017. In the virtual blink of an eye, Coli has traveled far from his first brush with fame as a fifteen year old contestant on an Italian music program. He hasn't come this far on the basis of a handsome face or great voice alone. There's an artistic force steering this song that reaches beyond mere dance club confection and suggests we will be hearing from Coli for many years to come.
INSTAGRAM: https://www.instagram.com/alessandrocoliofficial/
Jason Hillenburg