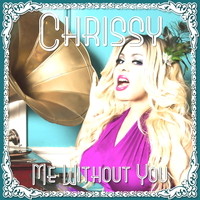 Chrissy's "Me Without You" is a song of self-confidence. Offering a nice twist on the breakup song, here Chrissy displays how much better off she is without them. The exploration of a negative relationship presents the possibilities that exist once a person leaves. Lyrics are the heart of the song as everything else revolves around them. A narrative begins to form, one that shows off the ease of life once a couple breaks up, of people who should not be in a life. Rejecting that idea that romance stems from a relationship, Chrissy's message of defiance rings loud and true.
Beginning small the song starts out with a tense guitar riff. Gradually the piece expands in scope as it incorporates Chrissy's message of hope. Her desire to heal and grow after a relationship is quite healthy, and sort of turns the idea of pining for a long-gone relationship on its head. Over the course of the song the beat hits hard as it settles into an infectious groove. Merging together pieces of rock, dance, and pop into a satisfying whole the song has a sense of optimism that comes to define it. With this kind of style, the piece builds up in sound growing ever larger. Kaleidoscopic in nature, Chrissy allows layer upon layer of sound come together creating a vast ornate arrangement with her voice resting right in the center.
"Me Without You" shows off Chrissy's stunning strong voice and her message of independence.
https://www.facebook.com/ChrissyOfficialMusic/
By Beach Sloth