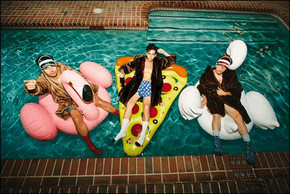 Multi-platinum songwriting, production, and remix team Captain Cuts (Ben Berger, Ryan McMahon, and Ryan Rabin (drummer & producer, Grouplove) premiere lyric video for their debut Epic Records single "Love Like We Used To" feat. Nateur today!
"Love Like We Used To" was released two weeks ago and debuted in the top 10 Spotify's US Viral Chart at #8 and Globally at #17.
It impacted top 40 radio last week with 35+ stations adding the song and the feedback has been great! Feels like a hit!!
Together Captain Cuts have produced and written songs for artists such as Walk The Moon ("Shut Up and Dance") Grouplove "Tongue Tied"), Tove Lo, American Authors, Halsey, Marina and the Diamonds among others. They produced Bebe Rex's newly released single "I Got You. They've also done official remixes for the likes of Britney Spears, Imagine Dragons, and Ellie Goulding, to name a few.