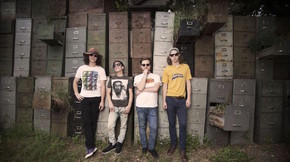 It seems like everyone and their grandmother were in a band in high school. Most were short-lived, and most were terminally awful. Every once in awhile, however, comes a group of musicians who start young and gel instantly, vastly exceeding the expectation of a band of their age. Fast forward a few years and Atlanta's own The Future Babes is that band.
http://www.thefuturebabes.com/
Since their inception, they've been slugging it out everywhere from house shows to venues across the southwest, locking down a sound that takes timeless songwriting and adds a special color and vibe to each tune. Their first single, "Cold Blooded," is one of those intelligent rockers. Easy to grab onto, but throw on those headphones and the brilliant textures come to life in a whole new way.
The quartet of Carson (guitar/vocals), Ian (keys/bass/vocals), McClain (drums), and Andrew (lead guitar) uses their assorted chops to find new ways to rock out. Whether it be Ian throwing down a surprise piano line, or Carson and Ian trading off lead vocal duties, they're never content to stick with the formula. Through the help of the team at Madison Records (who also recorded their full length debut) they're ready to introduce themselves to a national audience.