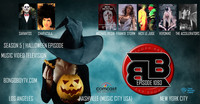 The Bongo Boy Rock N' Roll TV Show is proud to present the latest episode in their Rock N' Roll TV Show series, "Howling Halloween" featuring 6 Halloween Music production by talented independent international recording artists in 1 special ½ hour TV show.
This Bongo Boy TV produced episode airs on all 60+ channels in the Bongo Boy TV Network of broadcast from Mid-October till November 5th. With broadcast rotation in New York on Tuesday October 28th at 8:30pm in Manhattan and on November 5th at 5:00pm in all the 5 boroughs of New York City.
For a complete broadcast schedule, please visit www.bongoboytv.com.
Sarantos offers his playful take on Halloween with "Halloween Song". Joyful in nature, the song offers an interesting take on Halloween, focusing on the fun that the holiday provides. Nicely accompanied by a retro rock beat, the song is full of catchy, infectious hooks.
Characula's "Mummy Dance" possesses strong powerful vocals that serve as the song's heart and soul. Driving by a powerful unstoppable beat, Characula shows off a clever take on 80s goth with a wink and a nod. Rather beautiful the song's many layers creates a muscular sound, courtesy of the heavy guitar riffs.
Michael Resin's "Vicious Minds Project" ode to Halloween is perfect with a wonderful take on the Zombie genre. Rather compelling the camera work is quite gorgeous. By sort of twisting the viewer's expectations, it manages to embody all that is good with the darkness of Halloween. Interestingly intermingled within the story are cleverly arranged pieces.
Frankie Storm delivers a song with true swagger on "Shooter". With true style, the song nicely merges elements of pop, country, dance into a satisfying whole. Lyrics are articulate as they come together to tell a compelling narrative.
On "Dancing On My Grave" Nick Le Juge creates an ornate all-encompassing sound. Layer upon layer of sound intermingle ever so effortlessly. Truly possessing a unique style, the song has a brash yet melodic approach to it. With this strange beauty "Dancing On My Grave" displays the undeniable chops of Nick Le Juge.
Simply stunning is Veronika's brief, bold piece which works absolute wonders. The presentation is perfect and reveals a true talent for form and style.
Tapping into a 70s punk rock style is the retro leaning The Accelerators with "Sex In The Cemetery". Delivered with a true sense of urgency, this is a song that lingers in the mind long after it has ended. Humor is neatly embedded within the song's downright chaotic lyricism.
By Beach Sloth