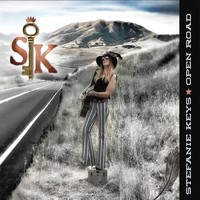 The third album from Stefanie Keys and her San Francisco based five piece, Open Road, continues adding to Keys' unusual and individualistic blend of soul, rock, and Americana in one package. The ten song collection, produced by Dave Shul and Peter Keys, frames her compositions beautifully and professionally while never draining them of the air they need to breathe. Her influences, ranging from Carole King to the Red Hot Chili Peppers, aren't always obvious and that's clearly a case of an artist who has managed to incorporate the musical forces that shaped her into an overarching musical identity not immediately reminiscent of any particular performer. The lyrics are, likewise, a skillful blend of the personal and universal and Keys delivers each song with gravitas and grace beyond her years.
FACEBOOK: https://www.facebook.com/stefanie.keys.5/
The album's opener, "Open Road", embodies the personal and universal touch she gives to the material. It has a confident mid-tempo musical stride and a clean production that renders each element in the mix quite distinct. The guitar in this song is quite forceful without ever being too heavy handed in the mix. The light touch of organ plays off quite nicely against some tasteful electric guitar to open "No Tomorrow" and, when Keys' voice enters, the same relaxed mood prevails. The drumming finds a steady, slightly behind the beat groove and never veers off course. The lyrical content here, as elsewhere, is intelligent without being too fraught with wordiness or false profundity. It has a life-affirming bent as well that Keys' delivers with easy, relaxed artistry.
"3 Hours Till Yesterday" is one of the album's best lyrics and has an emphatic chorus that, likewise, ranks with other high points on Open Road. This has an arguably stronger suggestion of the personal than other songs, but it's no matter anyway – Keys dramatizes each song on Open Road with the same mix of passion and technique that always sounds convincing. "City Life" has a slinky, understated soulfulness that draws out one of Keys' smokiest vocals, but her playing to the theatricality of the track never turns into melodrama. The brief and delicate dance between electric guitars kicking off "Highway to Your Soul" soon segues into a near raucous bluesy stomp with just a hint of funk in the verses that bears down into full-on rock during the chorus. The highlight of the album, arguably, is the track "Amos Crain". This is an inspiring marriage of the solid roots rock with awesome narrative skills that extend far beyond the range of your typical pop country or Americana artist. Keys does a fantastic job of drawing the title character with significant details while never wasting a single word.
Open Road is far too good to simply lump in with the wide assortment of well intended but ultimately hollow Americana/roots rock albums released each year. There is truly something unique about the sings on Open Road and, undoubtedly, that distinguishing quality is the personality emerging from these songs. Stefanie Keys' talents continue to grow and the added refinement on this album is noticeable when compared to earlier efforts. Open Road is the next chapter in a career that shows no sign yet of hitting its artistic peak.
4/5 Stars
YOU TUBE: https://www.youtube.com/watch?v=nkS19RQ5cVc
Jason Hillenburg