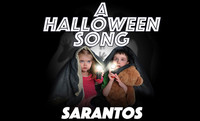 Sarantos injects a sense of fun and cheer on the playful sound of "A Halloween Song". Opting for a slightly retro style, the song has a jaunty, loose feel to it. The lyrics throughout reveal a sense of mischief, and Sarantos helps to embody this spirit. Hooks are aplenty throughout the song, either through the rather joyful melody that feels infinitely inviting to the nostalgic classic rock rhythm that helps to tie everything together. Detail is incredible throughout as Sarantos lets the song simply grow in power, from such a small size to something that truly becomes an infinitely enjoyable experience.
Backup vocalists add to the song's strong sense of purpose. Rather celebratory, Sarantos explores both the holiday's origins of embracing the creepy and the crawly alongside its newfound purpose of bringing people together. Everything throughout possesses a sly sense of humor, as Sarantos lets strange, surreal scenarios take hold throughout the piece. Over its duration Sarantos lets each one of the real and unreal characters that appear on Halloween feel fully formed. Indeed, it is his narrative that brings the entirety of the piece together. By letting the song experience Halloween's wide variety of moods, Sarantos captures what the holiday has become, something of true togetherness. The rhythm, the vocalists, and the random flourishes of sound made it a true treat.
Capturing the truly wonderful spirit of the holiday, Sarantos creates a perfect piece of pop with the spellbinding work of "A Halloween Song".
By Beach Sloth