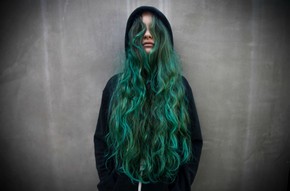 Ibiza-born, Antigua-raised singer Au/Ra unveils her debut single 'Concrete Jungle'.
Opening with a darkly pitched vocal riff that runs through the length of her debut offering, the minimalist production pushes Au/Ra's vocal to the front, where it weaves a fantastical web – extracting surrealist lyrics from every day observations "Cracks in the pavement, scorpions, abandoned retail emporiums. Amazon Prime, the new world power".
'Concrete Jungle' takes inspiration from the juxtaposition between her relatively isolated upbringing and that of someone brought up in a large town or city, "Concrete Jungle was inspired by taking trips to big cities when I come from an island" Au/Ra explains. "It's about human nature, how we're all connected".