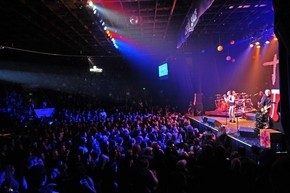 When you have a live event, the worst thing that can happen is for people not to show up. This is the fear that most musicians have. However, thanks to modern technology, this is no longer a fear that should give you sleepless nights. You can now use digital signage to boost your music live event. Below are some of the things you should consider doing.
Offer live-streaming
The best thing about digital signage is one that you can stream content straight from your event floor hence keeping your audiences updated on all relevant information. Alternatively, you can stream live podcasts or how your recent events went. Some of the things you can stream include; footage from previous events, event highlights, interviews, and drone footage, interviews with influencers or stand personnel and so on. The goal is to create the hype for your upcoming event.
Real-time updates
Who will be attending your event? When will it start? Where will it take place? Any information regarding the event needs to be displayed on your digital signage screen. The idea is to give your audience as much information as they need. It is also possible to display posts from your social media feeds. Digital signage makes it possible for you to bring all your social media networks together. For example, you can display content from Instagram, Twitter, Facebook and YouTube together. This helps give real-time updates to your audience. The best thing about social media updates is that they make the attendees feel personally involved in the event.
Use high impact branding
When leveraging on digital signage, you should not just rely on a single screen. Make use of every screen that is available to you right from the small individual screens in your office to outdoor LED walls. Making use of more screens makes it easy for more people to learn more about your music live event. In addition to that, you have to ensure that you display your content in a manner that people are able to understand. Do not be afraid to make use of digital signage templates.
Use them for way-finding
It is easy for your attendees to lose their way when searching for the venue. You can make use of digital signage for way-finding. To start with, make sure that all your content gives details on where the event will be held. Second, you can use digital signage as static maps displayed on screens or as interactive digital way-finding. They should be pointing in the direction of the event. You can also make use of the sophisticated touch-technology to enable attendees interact with your screens.
Digital signage is one of the best solutions you can use to boost your music live event. The area you need to pay more attention on is that on content creation. In addition to finding the best template to use, you need to understand your audience, understand the full scope of your event then create content that is unique to your music live event. You can also hire professional help.
Author Bio
Luke Peterson is a digital signage expert that works mostly with musicians. He recommends the use of digital signage to boost event awareness. He also advocates for the services of http://dopuplicity.com.