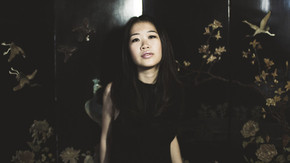 Nettwerk Music Group is happy to announce the signing of Singaporean artist Linying to its label roster. The indie-electronic songstress releases her debut EP, Paris 12, this Friday, September 30th.
Linying first gained recognition from her collaborations with some of European house music's biggest names, leading to a #1 on Hype Machine and over 10 million plays on Spotify. She released her own first single "Sticky Leaves" earlier this year, landing on Spotify's viral charts globally, with Billboard writing, "As the track builds slowly from a piano-driven ballad to its quicker-paced electronic climax, Linying's voice remains the focal point, soaring higher and higher." She followed that with "Alpine," which was featured on NPR's All Songs Considered, with NPR Music's Bob Boilen commenting, "those electronic textures and that gorgeous voice are just a perfect match."
Named a Spotify Spotlight on 2016 Featured Artist, Linying is ready to further showcase her brand of moving lyricism and vivid music productions in songs that reveal a stark emotion perspective through elements of electronica, baroque pop, folk and alt-rock.