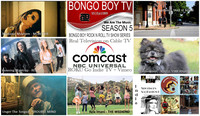 The Bongo Boy Rock N' Roll TV Show is proud to present their episode 1089 in their Rock N' Roll TV Show series, featuring 6 talented independent international recording artists in 1 special ½ hour TV show. This Bongo Boy TV produced episode premiered in September on all channels in the Bongo Boy TV New York City Region. For a complete broadcast schedule, please visit http://www.bongoboytv.com.
Madame Mayhem's "Monster" is filled with malice. With a calculated aggression reminiscent of Don Caballero with edge, the song is all fury. A barely controlled rhythm plows forward with great power, effortlessly combining elements of metal, post-rock, and a hint of thrash. Vocals are brilliant, bold, and confrontational.
On "Take It Slow" OddsLane opt for a laid-back sort of vibe. Creating a casual kind of groove, the song unfurls ever so joyfully. A sly sense of play defines the song, as the players seem to understand each other perfectly. OddsLane create a perfect sort of lazy Sunday afternoon sound with "Take It Slow".
Fiery in style is Cunning Man Trap's "Red". A crazed form of chaos dominates the proceedings. Growing ever more powerful, the song comes a great vortex from which no sound can escape.
With a gentle spirit is "You'll Stay Right Here" whose lovely work shows off the Commuters' ability to create a full, beautiful sound. The song's reflective approach is one of a quiet kind of defiance, of hope. Lead by a crystal clear piano and highly articulate lyrics the song is gorgeous.
On "Troubled Mind" Under the Tongue take a dark twisted approach. Great distorted effects lead the way forward as the piece refuses to sit still. By going for a constantly in flux sea of sound everything feels rather eerie. Serving as the heart of the piece are the unsettling lyrics which feel like the narrative to a nightmare.
Bringing the collection to a playful close is Kyla Imani's "The Weekend". A colorful, staccato melody graces the song as it opens up with the utmost of grace. Kyla Imani's voice feels gentle and kind as the song grows in pure heartfelt joy.
By Beach Sloth