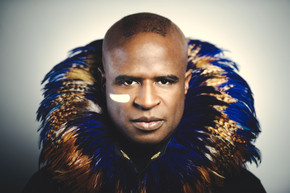 Americas Got Talent Alumni, Alex Boye' is known for his dynamic 'African infused' covers on YouTube and has just completed a new EP of brand new originals produced by Mantra (Pitbull)
Alex was raised by his Nigerian mother in London, who kept encouraging him to include his african roots in his music. "Stay true to you", she would say. It took 20 years for Alex to implement his mothers plea, and when he did, he started to find success, which leads to Alex's now famous mantra "Listen to your momma"
With his newfound signature sound, Alex Boye is known as the charismatic energetically charged singing sensation who's creative and innovative music videos have garnered him millions of fans online. alex labels his style of music as "Pop music with an african twist".
Recently, Alex had a chance to shine again to rave reviews for his unforgettable 1st audition on NBC's Americas Got talent where Howie Mandel quoted "In my 6 years of judging this show, Alex is the best music artist I have seen on this show!"
https://itunes.apple.com/us/album/we-all-bleed-the-same-ep/id1134070934
Alex is versatile and has a unique style that appeals to all ages, which is pretty rare these days. Last year Alex performed at Carnegie Hall 4 times and received standing ovations every time.
As a YouTube artist, Alex's unique and creative videos have been featured on Good Morning America, Jimmy Kimmel, Billboard.com, Time.com, Queen Latifa, Disney.com, Perez Hilton, Huffington Post, Worldstar Hiphop to name a few.
Stream his new EP on Soundcloud and Buy it on itunes today. Be sure to check out the new music video for his single "We All Bleed The Same".