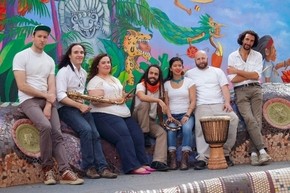 Originally from Jerusalem, Lior Ben-Hur has spent years traveling the world playing and learning music. His band's new music video, "Roads of Creation," tells the journey and story of the traveler who chooses to be on the move in order to learn about the world and humanity first hand.
"Roads of Creation" from the upcoming album, So I Wander, reveals Lior Ben-Hur's deep passion for Reggae, and demonstrates his band's ability to perform high-energy roots music.
Despite the ups and downs, the struggles and obstacles of being on the road, Lior Ben-Hur shares his message of the importance of "waking up" by traveling and experiencing the world with one's own eyes. The video was shot as a part of a band road trip, which began at their home base in San Francisco and ending at a remote oasis in the Mexican desert. It reveals the band's strong belief in personally discovering, respecting and preserving mother nature.