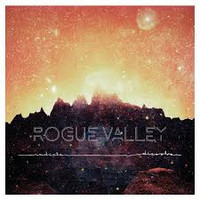 Since their 2009 formation, Rogue Valley has distinguished themselves as standing among the foremost practitioners of brainy modern pop. Their sound owes a debt to an array of influences. Their conceptual preoccupations, however, recall a specific time in popular music's history and speak to their artistic ambitions as songwriters. Few modern bands will coalesce around the idea of recording four full length albums within a year to correlate with the four seasons, but fewer still will make it work. Admirers streamed songs from the band's Seasons project millions of times on YouTube and Spotify alike. It also drew the attention of Hollywood and led to the band's music appearing in the Ben Stiller movie The Secret Life of Walter Mitty. This is a band on the proverbial rise and their latest full length release, radiate dissolve, will quite likely propel them to even greater visibility than before.
URL: http://www.lostinroguevalley.com/
"The Brightest Stars" has a relaxed, ambling grace perfectly completing the coolly confident atmosphere. Rogue Valley never feel compelled to rush their compositions and the song's slowly unfolding melodic strengths help accentuate the relaxed tone. Singer/songwriter Chris Koza has a sure talent for quickly ingratiating himself with audiences. He is unassuming, far from abrasive, yet presents his art with enough mystery that listeners can't turn away. "Host" has more assertive electric guitars than we heard on the first track, but the melodic focus continues to be stressed. Koza has another exceptional vocal melody to work with here and doesn't let its potential go to waste. The lightly effects treated electric guitar gives it an added shade of subtlety, but bringing lush harmonies and even light quasi-classical overtones in the mix further separates it from the much more conventional approach heard on the album's opener.
A slightly ominous keyboard swell opens "Bury Your Heart" and the moodiness continues from there. These is perhaps the band's most stylish, yet understated, turn yet and certainly favors discreet electronic textures and carefully miked instrumentation over more obvious alt rock textures. Koza's vocal is appropriately distant, if not outright mysterious, and neatly dovetails into the mood of the music. The band invokes another mode with the airy harmonies and martial beats of "Transference". Koza's vocal melody has some beauty, but some may find it a little too droning for their taste – seemingly aware of this possibility, Rogue Valley shows the good sense to open the percussion up as the song progresses. "Blood Moon" has a surprisingly poppy bounce directly at odds with its title and lyrical content, but the contrast created has enormous appeal and the band smartly milks it for all its worth. The title song concludes the album on an ambitious but dreamy note very much in keeping with the numerous sonic landscapes the band's conjured throughout the album's duration.
Rogue Valley further separates themselves from the rest of the pack with this new release. radiate dissolve is bursting with creative songwriting from a band seldom content with resting on one approach for too long. Their imagination and daring deserve our applause, but their curiosity deserves it more.
9 out of 10 stars.
I-TUNES: https://itun.es/us/9ESfw
Jason Hillenburg