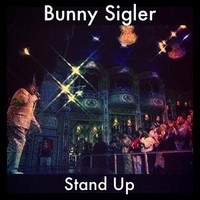 The release of Bunny Sigler's latest single "Stand Up" brings together the greatest of the legendary singer's talents in one compelling work. The Philadelphia native, long ago nicknamed Mr. Emotion thanks to his particularly deep feeling singing performances, retains every ounce of his much ballyhooed ability to transfix listeners, but likewise, he retains the ability to remain on the cutting edge of personal expression, has a developed social sense, and has embraced modern technology and the genre's leading producers without ego or fear. The wisdom to make such decisions keeps Sigler on the sharp edge of contemporary soul and R&B rather than confining him to the realm of a legacy act – a fate a song like this amply demonstrates he isn't yet ready to accept.
FACEBOOK: https://www.facebook.com/BunnySigler/
It's more accurate to describe "Stand Up" as an anagram of various musical styles. It has an evocative tempo, but the song has shimmering and understated keyboard textures contrasting nicely with its light funk pacing. The bevy of backing voices and double-tracked vocals is always tastefully handled and rippled from page one of the soul music manual. Sigler's songs have always shown a firm command over the fundamentals of the genre while never failing to shape those fundamentals to his own uses. The percussion is subtly intricate without ever calling too much attention to itself and keeps steady pressure on the song until it resolves itself.
Sigler's vocal lives up to his billing as Mr. Emotion. An addendum to that nickname should be Understatement, because few singers in any genre accomplish so much while exerting so little apparent effort. Sigler has the ability to suggest a range of emotion just with low-key variations in his delivery and, on certain phrases, the effect is practically revelatory. He likewise sings with the devotional fervor of a man emboldened by conviction. Sigler's style isn't to rant, rave, or raise the roof in some fashion. Instead, the beliefs embodied in this song with style and considerable swagger. Sigler helps underscore the song's anthemic qualities by never, even for a nano second, sounding unsure of his own message.
The lyrical message is positive without ever sounding saccharine or subverting the music to the uses of dogma. Instead, it sketches the essentials of its point of view and doesn't load listeners down with a lot of excess verbiage. Bunny Sigler's long career as a writer and performer near the forefront of American music gives him considerable cachet as a legend, but songs like this make it apparent he isn't content with laurel leaves and collecting accolades. This is an artist who remains on the front lines, energized by new worlds to conquer, and in ever growing command of his powers. Longtime fans of Sigler will be pleased to hear him in such fine form and novices will be undoubtedly pleased as well to acquaint themselves with one of the true remaining giants from that genre.
Purchase Link: https://itunes.apple.com/us/album/bundino/id990351839
Jason Hillenburg