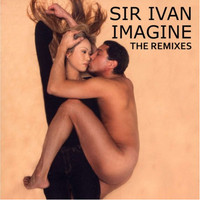 Ivan Wilzig walked away. His two decades of working alongside his family in the banking industry enabled him to amass a personal fortune and assist his relatives in running their mutual business interests, but the blandishments of material wealth were not enough for him. It spurred him to turn his back on those trappings nearly fifteen years ago and, since then, he hasn't looked back. He pursued his dream, much belatedly, but the 2001 re-envisioning of John Lennon's classic solo track "Imagine" as a high energy dance track unexpectedly scored huge in a post 9/11 world and single-handedly jumpstarted his second career. Under his adopted stage name, Sir Ivan, Wilzig has continued to re-imagine numerous other songs for a modern audience while always retaining the central theme of universal love, human rights, and peace. Now, in 2016, Sir Ivan has made the decision to revisit the scene of his first glory. The terrorist attacks in France, Belgium, and Turkey prompted him to tackle Lennon's seminal work once again and restate his optimistic point of view for a modern audience and pay homage to Lennon's life and work.
URL: http://sirivan.com/
The first track, "Imagine (7th Heaven Radio Mix)", gives listeners immediate notice about Ivan's musical priorities. Groove and tempo, above all else, are the pivotal factors. Naturally, Ivan employs computerized drumming and a wealth of synthesizers to construct these soundscapes, but they aren't ever produced in such way that they sound sterile or overly digital. The song's expanded twin, "Imagine (7th Heaven Remix)", quite expectedly takes longer to develop, but this larger canvas affords Sir Ivan a chance to stretch some musically while still retaining the focused energy present in the radio mix. It is equally notable how Sir Ivan delays his vocal entrance this cut. Typically, even in this genre, the vocalist announces their presence much earlier, but Ivan is obviously content to let the song embed itself in a listener's consciousness before he imposes himself on the proceedings./Tel Aviv based DJ and producer Dor Dekel contributes his own remixed vision for the song as well. "Imagine (Dor Dekel Radio Mix)" is a completely different beast than its 7th Heaven counterparts – groove and tempo oriented, but sometimes willfully spastic and a much more challenging listen. The basic elements remain intact, but how he approaches them draws the distinctions. While the 7th Heaven remixes quite clearly aim to make you move, there's a suggestion in Dor Dekel's vision that he wants you to move and, perhaps, more.
Sir Ivan collaborates with highly respected Chicago producer and DJ Marc Stout as well. Stout has worked with such lumaries as Katy Perry and Usher, among others, and shapes "Imagine (Marc Stout Radio Mix)" into a theatrical, if not cinematic, and hard-hitting club track. It opens dramatically with a voice over of two key lines before segueing into the grittiest remix thus far. Stout's third contribution to the album, "Imagine (Marc Stout Vocal Club Mix)" is much lighter fare overall; the tempo, as always, never wavers and glistening synthesizer lines deepen its aural appeal. Despite the presence of so many top flight collaborators, however, Sir Ivan's latest release Imagine: The Remixes is an intensely personal work as well as being one of the year's high water marks for entertaining electronic dance music.
9 out of 10 stars.
AMAZON: https://www.amazon.com/Imagine-Remixes-Sir-Ivan/dp/B01GGMXBNI
Jason Hillenburg