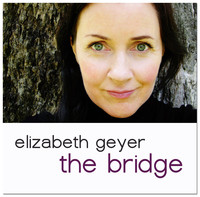 Elizabeth Geyer's "The Wall" is a thoughtful, highly articulate album. With a carefully crafted narrative that ties the pieces together the album has a theatrical quality to it. Her crystal clear voice serves as the heart and soul of the album. With great attention to detail her stylistic choices combine elements of jazz, pop, and a hint of classical into the mix. Throughout it all it is the tender spirit of the pieces that help to truly set it apart.
AUDIO LISTENING: https://elizabethgeyer.bandcamp.com/
"The Bridge" starts the album off on an impressionistic note. Light and airy the song at first focuses on Elizabeth Geyer's expressive vocals. As the rest of the band comes into view the feeling is one of true satisfaction. Nicely playing off of this is the optimistic spirit of "Waterfalls and Rainbows". On "Goodnight Romeo" Elizabeth Geyer goes for a classic, timeless sound. Reflective in tone is the moody work of "Rain Falls". Passionately delivered is the defiant spirit of "The Party". Employing an intimate approach is the hushed sound of "I Weep". Easily the highlight of the album Elizabeth Geyer's concise, poetic lyrics work wonders. A quiet celebration emerges out of the sophisticated "The Wall". Stripping things down to the essentials is the brilliant color of "Place To Fly". Ending the album on a high note is the lovely "Rose".
Displaying a true sense of taste Elizabeth Geyer creates a portrait of a life with the intricately detailed "The Wall".
By Beach Sloth