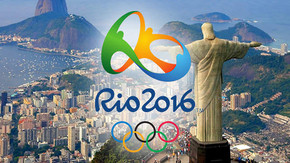 "Rio de Janeiro is synonymous with sport. All eyes are on the Cidade Maravilhosa (Marvelous City) for the 2016 Olympic Games and the world will indeed marvel at the feats of speed, strength and skill exhibited by elite athletes, and by the resplendence of Rio de Janeiro itself.
The Olympic Games kick off tonight in Rio, although we're sending blessings to all Olympians, I couldn't be more excited to cheer Team USA to gold!
Did you know that the US team has a record-breaking 292 women – the most ever to compete for a single nation. And our women are the favorites to win in sport after sport!
These incredible women are inspiring young girls around the world to get off the sidelines and chase their dreams. Let's make sure they know we're rooting for them.
This is a song I co-wrote many years ago with Keith Edwards and co-produced with Stein Berge Svendsen. It's gone through so many productions, and one of the more stellar ones features Grammy award winning artist Jose Feliciano." – Micheal Castaldo