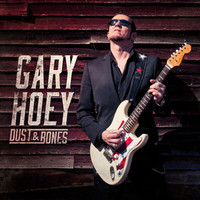 Gary is as good as creating new sounds and styles as he is reviving classic genres. Gary has revitalize rock, surf, and Christmas music, like Brian Setzer has with rockabilly, big band and Christmas music, This release features a minimalist approach in the personnel, concentrating on the tone, sound and flexibility. D&B has Gary on guitar/keys, Matt Scurfield on drums, A.J. Pappas on bass, and guest vocals by Lita Ford. A trip to "Hoeyville" is always a fun ride.
Gary is definitely favoring slide on this release (the Resonator on the cover gave me an advance clue). Boxcar Blues has a traditional blues feel, with slide. Who's Your Daddy has a big band feel, which he really pulls off nicely just basically using a power trio. Born To Love You has the classic 70's guitar driven rock style. Dust And Bones is a ballad of sorts, with personal lyrics. Steamroller is a fast-lane slide tribute to one of the blues/rock, master innovators, Johnny Winter.
https://www.amazon.com/Dust-Bones-Gary-Hoey/dp/B01FWTIAFU
Coming Home is a personalized duet ballad with Lita Ford. Ghost Of Yesterday is a retro 70's sounding vibe, Robin Trower style reminiscent song, as is the ballad This Time Tomorrow. Back Up Against The Wall is a jive type blues piece with a little B3 background sound. Soul Surfer is something I hoped was coming, an instrumental back to the surf side of his roots.
If you like any of the styles mentioned above, you won't find anyone better to deliver them. As far as guitar prowess, old friend Gary is at the top of the "A" list. Watch his tour schedules and make a point of seeing him live!
By R.M. Engelman