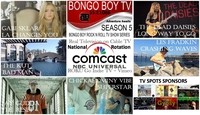 Gabi Sklar's "LA Changes You" has a haunting melody that guides the song along. With lyrics that emphasize what happens with a move to LA, the difficultly and the difference that a city can make, the song is beautifully executed. By keeping the song to the absolute essentials its message is power.
Watch: https://vimeo.com/173795303
Wasting no time the Dead Daises prove themselves to be an unstoppable machine with the effective driving rhythms of "Long Way To Go". Vocals are commanding as they are growled with pure determination. The song feels akin to the embodiment of pure defiance and full independence.
Embracing delightful fuzzed out guitar sound is the hazy energetic work of the Kut's "Bad Man". Nicely mixing together elements of garage and punk rock, the song deserves to be played as loud as possible. Harking back to a simpler, more forceful time in rock, the song taps into punk's very soul.
Les Fradkin's "Crashing Waves" displays a dexterity reminiscent of Dick Dale's work. With nimble guitar lines and loose rhythms, the song feels akin to a cascading joy. A playful attitude defines the entirety of the piece as it seemingly aims for a glorious sunset.
Truly warped in nature is the eerie work of Jay Gudda's "The Reset". Employing elements of pitch-shifting the song's claustrophobic vibe is deeply compelling. Beats are physical in nature. Overall the flow is impressible, dominating with a sound that feels all-encompassing.
A celebratory spirit dominates the spaciousness of Chickahominy Vibe's "Superstar". Hope flows out of the sound as the lyrics seem to shoot for the stars. Fully-realized the song's undeniable spirit closes the collection off on a perfect note.
By Beach Sloth