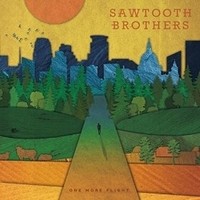 The four piece band Sawdust Brothers hold the rare, and not altogether meaningless, distinction of being the only dual brother act within recent memory working within any popular music tradition. Clint and Luke Birtzer form an impressive team with Jesse and Ethan Moravec on the band's debut album, One More Flight. This eleven song collection features astonishingly reverent, yet individualistic, takes from the bluegrass tradition made doubly impressive by the band's obvious lyrical facility. These aren't just instrumentals with the lyrics tacked on as a half-thought out afterthought. The Birtzers and Moravec brothers are keen-eared artists capable of filling their musical vehicles with multi-layered narratives open to interpretation.
The opener, "Another Cliché", surely ranks among the smartest and wryest Americana offerings in recent memory. The Sawdust Brothers unwind a host of creatively employed tropes from popular song and conversation over a humorously arrayed assortment of acoustic instruments. The vocal brings added humor to this deliciously self-conscious song, but they never play it too heavily for laughs and listeners, as a result, it pays further tribute to their skills. "County Road X" is a much more traditional bluegrass track with glittered, yet understated, vocal harmonies. The lyrics have a strong Spartan beauty that reaches for the heart while still exhibiting sharp musical instincts. There's a similar traditional vein underlining "What's Her Name?" thanks to the light touch of mandolin added extra color, but this is much close to a straight-ahead folk song than pure bluegrass or county. The Sawdust Brothers are never content with playing like any other bluegrass band and, instead, demonstrate a distinct singer/songwriter sensibility.
"On Top Of The World" utilizes recognizable dynamics from rock songs over another traditionally minded assemblage of acoustic instruments, particularly guitar and violin. It has a, likewise, stirring pace that picks listeners up from the first note on. The deliberate and jaunty pace of "Blame It" is a perfect musical frame for another clever, deft piece of Sawtooth Brothers songwriting. There's an abidingly understated quality to each of One More Flight's musical narratives that emphasizes their charm and beautiful directness. More "riffy" acoustic work follows on the track "Don't Go It Alone", another airy band workout with glittering textures and buoyant energy. "The River and You" is a straight ahead love song, uncluttered, and popping with an ebullient swing. Sunlight streams through every track on One More Flight, but it isn't a put-on concocted for performative purposes alone. The songs on this album are informed with a genuine sincerity that never seems strained or forced.
The album's penultimate and title track bears the same distinctive marks of the Sawdust Brothers pop craftsmanship readily displayed on earlier songs. The faintly classical air lent to the song by its lush violins strikes a compelling contrast against its rustic design, but the real musical highlight comes from the superb and often breathlessly lyrical guitar playing. Melody is never far away from the band's focus. One More Flight is a relentlessly solid effort distinguished by facility, feeling, and elastic creativity.
YOU TUBE: https://www.youtube.com/watch?v=DcX1Rx-7jAQ
URL: http://www.sawtoothbrothers.com/
9 out of 10 stars.
Jason Hillenburg