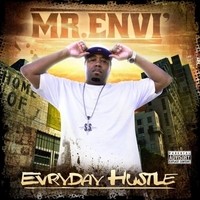 Mr. Envi' shows off his impeccable flow with the flawless "Evryday Hustle". Lyrics focus on the daily grind, on the things that come up on a day to day basis. By creating a vast carefully woven narrative throughout the collection Mr. Envi' shows how people live, what they long for, and what they can achieve. Tying this together are impressive, hard hitting beats and bass keeping the songs anchored. Additionally Mr. Envi' lets the samples run the gamut from the classics to the modern, more neon-hued approach.
After the anxious "Evryday Hustle Intro" things get truly started with the luxurious "Where We Goin'". Lead by an eerie piano and a nimble bass, the song unfurls slowly wondering about what happens next. This question helps to serve as the heart of the piece as it gradually swirls about creating an ever increasing tension. With a languid tempo the song's dream-like imagery explores how much the day to day can effect one's mind, of how this can simply get stuck within the mind. A mournful mood takes over on "A Lot On My Mind". Easily the highlight of the collection the song grows ever larger, as Mr. Envi' explores feelings of self-doubt. "Evryday Hustle" shows how things can be taken with the right amount of work and constantly moving forward without any hesitation. Ending things on a high note is the glistening sound of "Like Pro's".
On "Evryday Hustle" Mr. Envi' creates a fully realized, totally immersive experience, catchy and deeply moving.
http://www.southernstislesrecords.com/
http://www.facebook.com/Mr.Envi1
By Beach Sloth