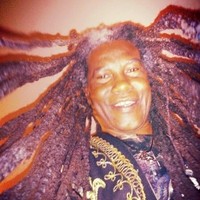 Gesso Mysticeyes creates an effortlessly stylish groove with "Love Vibrations". Funky to its very core everything about "Love Vibrations" works wonders. The guitar work is magnificent going from mere support of the infectious rhythm to its absolutely exquisite soaring into the sky. Strong vocals serve as the center of the song as all else revolves around them. Lyrics focus on the beauty of the world and how it is often overlooked in exchange for less important things in the world. As the song progresses Gesso Mysticeyes states how people suffer due to this lack of attention on the world, of the world's serious potentially solvable problems. By anchoring this all with an endless steady beat Gesso Mysticeyes imbues a sense of optimism that dominates the proceedings.
https://itunes.apple.com/us/album/lovestream-ep/id488007651
Wasting no time at all the song dives headfirst into its bouncing rhythm with a dub-like inflection. Additional elements enter into the fray from the nimble guitar work to the shredding work that occasionally punctuates the work. Keyboards help to further work in service of the message of hope, spry in nature they weave their way in and out of the track. Each additional reiteration brings the song closer to a universal truth. About halfway through the track Gesso Mysticeyes allows the song to possess a sense of dreaminess as the song departs from the rhythm for a moment to imagine the beauty of simply letting go. Towards the finale of the song the guitar work grows ever larger and more intense, before slinking away.
https://www.reverbnation.com/alphonsoaquistaddo/song/9631495-love-vibrations
Joyful in nature, Gesso Mysticeyes creates a celebratory experience on "Love Vibrations".
https://twitter.com/GessoMysticeyes
By Beach Sloth