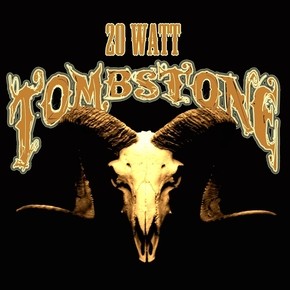 So hello again on the second day of summer 2016. It is so good to be here and ready for another Skoped Out with 20 Watt Tombstone, But before we get talking lets see what is going on in music. SESAC hosted an Open House on June 13, to celebrate the company's new global headquarters located in the heart of Music Row. The Open House drew an exciting array of artists, songwriters, music publishers and music industry executives all anxious to tour the new state-of-the-art building. Now in other news today, Australians have voiced their support for federal government investment in Australian music and indicated that a commitment to invest in the industry could influence their vote in the upcoming federal election, according to national survey results delivered this week. Now lets getg talking with 20 Watt Tombstone from Wisconsin. I love bands that truly live the music and do this because they have to like these guys. I caught wind of the new split album with Left Lane Cruiser "Death Blues vs. The Dirty Spliff" and I had to have them on. Join us today as we talk about life on the road, the new EP, Zika virus, and so much more!
Stoli: Where are we talking from today and how is summer coming so far in Wisconsin?
We are back home in Wausau, WI after a month on tour down south. So far summer has been amazing, we released a new album that has been doing better than we ever could have imagined and went on tour to support that record right as it was released. We played a lot of places we never thought we would be playing like the Hard Rock Cafe in Atlanta. We really couldn't be happier with how the summer started, we just hope to keep the momentum up!
Stoli: How did you two come together and form the band and what does 20 Watt Tombstone mean?
We were in another band called "Meantooth Grin" together and were unable to tour due to our bass player having a full time job as well as family commitments. We joked around about starting a duo and one day we just did it. It started as a joke, (We called ourselves The Goddamns) and eventually it got serious and we had to think about the future. The U.S. trademark office told us we could not copyright anything offensive or a swear word and "the Goddamns" definitely fell into that category. Also we had several submissions for TV get denied and some flack from clubs in the bible belt about booking us. In the end it made more sense to change the name and move on. The music after all was what was important not the name.
We were completely stumped on a name and had no idea what to call ourselves, so we enlisted the help of our fans to help us. After about three months of Facebook messages, emails and tweets from fans, we had a list that at least somewhat fit the band. After narrowing it down to 5 names we gave those 5 to our management and let them pick whatever they thought was best for us. So this band was really named by our fans. We like it because its abstract, it may speak to people differently from individual to individual.
Stoli: When I look at your social media you look like you are having fun. Do you see making music as work or as a passion you cannot deny?
We are very lucky in that we both get along very well. We fight like anyone, but we can hash it out and move on. We love what we do and appreciate that we have been blessed with people all over who support us and our music. It is humbling to see how some people value what you do and what some people are willing to do to keep us doing this. People have opened their homes to us, as well as shown us immense hospitality all over. It means the world to us and as a result we love what we do and the people we do it for. The day you don't love being in a band you shouldn't do it. Fans can tell if your heart isn't into it, and they wont want to listen to a band they cant believe in. We have fun doing what we do and love every minute of it. the day we don't we will both go get desk jobs!
I think in order to succeed these days in the music world even on a small scale, you HAVE to be about the work side. Lets face it, The days of rock star badassery and being about the bad boy image are kind of gone. Today its about work and with the saturation of the music world that the Internet has created, it is harder than ever to stand out and be noticed. Those willing to do the work and devote themselves reap the benefits. Talent is important, but without being completely dedicated to the work side, its tough. I guess as far as the "work or passion" thing, for me its a bit of both passion and work. for me passion is the easy part, the work part isn't always fun or as rewarding…sometimes its downright frustrating.
Stoli: When you two came together, how close did you agree on the sound of the band?
we knew where we wanted to go originally before we even started. We knew that blues and roots music would be a huge part of the sound, its evolved from there but the roots have stayed an important part of what we do. We like a lot of the same stuff too, Prince, Lamb of God, Public Enemy, Wu Tang Clan, RL Burnside, Hank 3, Clutch, etc. so its easy to be on the same page.
Stoli: You recently came off tour. Offer us insight into life on the road and what two things from home must you bring along?
Man, that's a tough one! So many things you SHOULD bring! I would say apart from the obvious like tooth brush, soap,etc. Garbage bags are handy! They work great to put dirty clothes in to keep the van from smelling like feet all tour, and probably foot spray lol! the van can get to smelling pretty bad if its not managed. Other stuff like air mattresses, can be pretty useful..especially if you sleep on a lot of floors. Oh and airborne and vitamin C! getting sick on the road can be huge. losing your voice as a singer can be catastrophic!
Stoli: I love your EP 'Death Blues vs. The Dirty Spliff.' How did you hook up with Left Lane Cruiser and how has the reaction to the EP been?
https://soundcloud.com/20watttombstone/sets/20-watt-tombstone-left-lane
We met LLC several years ago, we had been huge fans and when we finally played with them; we just hit it off. They were some of the most down to earth guys band guys we have ever met to this day. For being as successful as they are, you wouldn't know it. They are as humble as can be. We talked about the split for years and one day we just decided it was time….the rest is, as they say "history"!
The reaction has been a lot stronger than we thought. In the four weeks since the split's release, it has done about 8 times better in sales, and overall plays on streaming media. It really has taken off and we are incredibly grateful.
Stoli: Will there be a music video and what song would you put to visuals?
Yes! we film a music video for "your man's a jerk" in early July. Our music video for "Shitty Ex Girlfriend" off our last record "Wisco Disco" was a huge hit and we want to follow a similar theme and keep our videos funny. It seems like people respond well to our humor so we want to keep that light hardheartedness going and hopefully this new video will!
Stoli: How much time per week do you play music and do you also have work/family?
When we aren't playing shows we seldom play at all. We do it so much lately that when we have down time, we try to do anything but.
We try to go out and support local shows and bands when we aren't playing, as much as possible too. What's good for the local scene is good for all bands within that scene as well as the venues and we try to support both.
Family is very important to us, we try to maintain our personal lives as much as possible. A good support network on the road is everything. Life on the road can get ugly without family or friends to be there for you. For us family doesn't always mean blood. we have some friends that are also family to us. We couldn't do what we do without our family. It is everything to us.
Stoli: Are you nervous at all for Zika virus and would you go to Brazil to see the Olympics?
Yes and no. We also won't be touring Aruba, Barbados, Bolivia, Bonaire, Brazil, Colombia, Puerto Rico, Costa Rica, Curacao, Dominican Republic, Ecuador, El Salvador, French Guiana, Guadeloupe, Guatemala, Guyana, Haiti, Honduras, Jamaica, Marshall Islands, anytime soon either lol.
Stoli: What is coming up for 20 Watt Tombstone and where you @ online?
Planning a big tour in November hopefully if things go as planned. Hopefully some new merch, Vinyl for the new album is in the works. Hopefully by Oct. or Nov.! We are on all the usual social media, Twitter, Facebook, instagram, youtube, etc. or you can find our homepage at:http://www.20watttombstone.com
CDbaby: http://www.cdbaby.com/Artist/20WattTombstone
Facebook: https://www.facebook.com/thegoddamns/
Twitter: https://twitter.com/20watttombstone