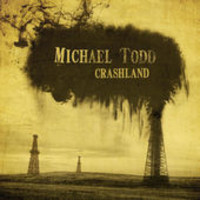 Sung straight from the heart Michael Todd's "Crashland" presents the best of Americana. "Crashland" serves as a series of short stories, exploring what it means to alive in the world. Thus what results is a sense of humor, tragedy and introspection coming together into a satisfying whole. By weaving together such a wide variety of styles Michael Todd creates an album that positively teems with life. With each song Michael Todd tells the tale of real people, of those who struggle with life, searching for purpose, as well as those who have found a comfort of sorts. Tying everything together is Michael Todd's strong, powerful voice and articulate highly detailed lyrics.
Audio: https://www.reverbnation.com/michaeltoddmusic/playlist/3609341
Opening up with the nimble guitar work "See You in the Night" Michael Todd recalls the tale of a person who simply leaves, of relationships that disappear falling away. Theatrical in nature is the playful sound of "French Fried Lady in Combat Boots" whose humorous lyricism is reminiscent of Beck's "Mellow Gold" with more polish. Tenderness flows out of the sweetness of "Shine". With a sense of true wonder of the world is the naturalistic hues of "Big Ol' Sky". "Hand Fishin'" taps into a celebratory spirit with the delicate guitar working wonders. With "Sensible Midsized Sedan" is easily the highlight of the album, with a sense of the blues and a slightly wry sense of humor. Ending the album off on a high note is the impassioned work of "The Undertow".
https://itunes.apple.com/us/album/crashland/id1115917684
Timeless in tone, Michael Todd's "Crashland" is a lovely portrait of the world with all its flaws.
http://www.michaeltoddmusic.com/
By Beach Sloth