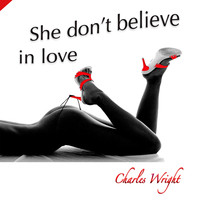 Charles Wright is a Mississippi boy, seasoned musician, with a musical career that spans over 50 years. I like this guy, he's groovy, funky and cool; funking it up all over the place. Fun FUN and just when you think you've had enough fun he goes and makes you have even more fun.
Wright has gritty vocals that speak to you instead of singing. He dances all over the funky vibe. Your head starts bopping, you can't stay in your seat, are you ready to be funked up? He got me, I'm hooked and singing along like a mad woman out of her head. It is totally contagious and I have the fever.
He worked in A&R for Del-Fi Records and responsible for bringing us some golden oldies. He put his experience in listening to use, I would say, as he executes that old school groove like a man who knows how to show you a good time. You'll be funked and happy and ready to funk some more.
Charles Wright's latest single, She Don't Believe in Love has me convinced, she may not believe in love, but I certainly believe in him. Come experience Wright for yourself, don't take my word for it, you will not be disappointed.
I rate this 4 out 5
http://expressyourself.net
https://www.facebook.com/charleswrightmusic
Rebecca Hosking – hoskingrebecca@gmail.com