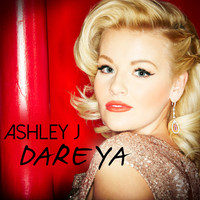 Ashley J, a lovely young lady out of Orlando, FL. She is not only a pretty face, but a black belt, dancer and singer/songwriter, triple threat. She is celebrating her latest Pop goodness, Dare Ya. It has the same vivacious charisma we're used to hearing from this budding new artist.
She is fearless and puts out solid music that displays her fun, carefree attitude; Dare Ya, is no exception. It is a up tempo, fun dance tune that gets your toes tapping and quickly puts a smile on your face. It has a spot on production that is pleasing to the ears. A perfect prosody that would appeal to all the top 40 listeners out there and give it time, I'm sure it will be climbing the charts to join its predecessors before long.
Her vocals are soft and pretty, but she sings with authority. When I say authority, I mean she sings with conviction and emotion that really sells a song. It falls into the Pop category for me as it is something that is not outside the box, very commercial and hooky. She has a style that works for the masses and she owns it and wears it well.
Ashley J sings her latest single, Dare ya, with style and grace. I dare ya to get out there and jump aboard the Ashley bandwagon, it's a fun place to be and no collection is complete without her lovely tunes. Listen and enjoy!
I rate this 4 out of 5
http://ashleyj.net/
https://www.facebook.com/AshleyJeanMusic/
Rebecca Hosking – hoskingrebecca@gmail.com