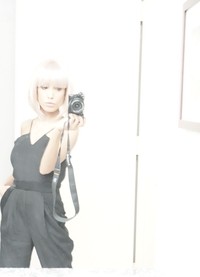 With a strong sense of play Barbara Mamabolo's "Hold Up" – (Bring It Down)" brings the funk. At times reminiscent of Parliament's delightful sense of style the song feels perfect. Paul Pesco's incredible work on the guitar helps to keep the entire thing fully grounded as the rhythm works its impressive magic. By opting for a fully formed sound everything simply works, from the nimble percussion to the wormy bass line to even the occasional punctuation of assorted sounds. These assorted sounds, ranging from taut synthesizer burbles to a little fanfare give it an elegant feel. Serving as the heart and soul of the piece are Barbara Mamabolo's strong vocals.
Absolutely wasting no time the song dives deep into its effortless groove. Barbara Mamabolo's voice leads the sweet melody forward as her voice has a slight element of flirtation with it. With each additional reiteration the song retains its sense of spontaneity. Elements of it go for a sense of self-awareness, with even Barbara Mamabolo advising what instruments to do what when. Woven within the song's loose DNA is an almost jazz-like sensibility as the song refuses to let up, displaying the undeniable chops of all involved. Until the absolute end the funk remains strong, growing ever more powerful until it simply stops on a dime.
Delivered with true heat is Barbara Mamabolo's incredible "Hold Up" – (Bring It Down) which recalls classic 70s funk in the best possible way.
By Beachsloth