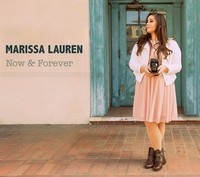 With a true twee sensibility is the satisfyingly sweet sound of Marissa Lauren's "Now & Forever EP". Light and airy the songs have a summery feel to them. Structurally sound Marissa Lauren explores a variety of different styles and settings throughout the EP, from the subdued to the bombastic. Throughout all of these many variations what serves as the heart and center of the EP are her crystal clear vocals. Lyrics are expressive of the difficultly of love, of relationships, and of trying to define oneself. By taking this particular approach Marissa Lauren is able to tie these many pieces together with a carefully constructed narrative that grows with each additional piece.
Audio: https://soundcloud.com/marissalmusic/sets/now-forever-ep
Starting things off on a high note is the giddy work of "Shut Me Off". With gentle guitar work the piece grows ever more expressive with the passage of time. Two variations of "For Now" are presented, one with powerful percussion, almost anthemic in tone. The other version is purely with voice and piano giving it an intimate feeling. On "Girls Like Me" Marissa Lauren taps into the quirky style of Jon Brion's arrangements as the song's structure plays with the listener's expectations, offering a sense of pure freedom. Easily the highlight of the collection, "Girls Like Me" is infinitely catchy showing off Marissa Lauren's skill in exploring a more realistic portrayal of romance.
"Now & Forever EP" shows off Marissa Lauren's considerable skill at creating a unique kind of pop, one hopeful and welcoming.
http://www.marissalaurenmusic.com/
Posted by Beach Sloth