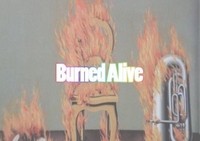 With a sense of grandeur, Tehon's "Burning Alive" is one that effortlessly weaves together elements of rap, hip-hop, and rock into a satisfying whole. Tehon's flow is done just right as his lyrics emphasize a nightmarish atmosphere. Helping to further add to the mood is the gargantuan beat which keeps everything fully centered. Flourishes of sound come from the guitar work as it taps into a combination of funk with a hint of an industrial vessel. A grey harsh landscape is explored in full as the song grows in scope and size.
Samples of pure terror introduce the piece. As they are morphed and twisted, the song starts in earnest. By the time that the percussion comes into the mix the song grows ever more intense. Tehon's maintains the hopelessness of getting too close to the terrible situation. When the wordless chorus enters in the entire thing feels truly doomed. After that Tehon's delivery grows to be blistering, as he veers between a languid darkness and a concern about how hurt people hurt people. Such things guide the world, of the pain of a person being transferred on the ones they most care about. Over the course of friendships and relationships, this proves itself to be true. Tehon lets this worry, the self-doubt that all face about themselves to guide the song forward. For the song's finale the synthesizer takes front and center stage bringing the sound to a climax of sorts.
Tehon's "Burning Alive" offers cleverly crafted lyrics with an elegant ominous execution.
Posted by Beach Sloth