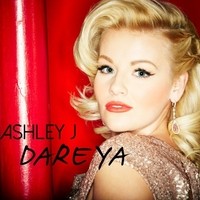 Ashley J is a new recording pop artist trying to make her mark. Hailing from Orlando, Florida, her beachy, sunny sound is reflected in her music. Before she became an artist, Ashley had an extensive writing career in Nashville, TN. While she was there, she solidified herself as a songwriter in the country music industry. She's even written some top hits, including "This Love's Forever" for a popular country music duo. While she was searching for herself, she realized her sound fits more into pop music and decided to make a switch. She was proven to be right after her first two singles made it into the Billboard Dance charts, top ten and twenty respectively. Now Ashley J is back again with her new single "Dare Ya".
URL: http://ashleyj.net/
"Dare Ya" is a fun light hearted tune about taking a chance in love. It starts off with a catchy verse that hooks any listener into Ashley's happy world. The production of this track is also great because it gives off a cheery vibe to this song. Ashley J's voice is mesmerizing, which matches the tune in such a great way. I loved the beat, almost hypnotizing, and I'd recommend it as an addition to anyone's running playlist! This song will surely have you get up and go. The lyrics are very motivating, inspiring people to go out and do the thing that they've always wanted to do. In the chorus, she sings "Dare ya to get up and go". What could be blunter than that! This is such a fun record that will be sure to play at every party this summer.
Another fun track that Ashley J released is "Cali". I take it as her own spin on "California Girls" a song by Katy Perry. Even though she might be from Florida, Ashley J makes a great song that embodies the beautiful sunny state. I love how she can bend her voice to fit many different types of sounds. Another song in her discography is "One on One", this showcases Ashley J's dance roots. This type of sound is what brought her into the Billboard Dance Charts, with its militant bass line and a fist-pumping chorus. She has several remixes on her site, all of which bring a different spin on a classic tune.
Ashley J's sound is a fresh addition to pop music. Her sound is very youthful, and her visuals are simply stunning. In her music, I can hear influences of Katy Perry, Ke$ha, and even some soulful Dolly Parton. Her stint in country music has given her a soulful element, not typically found in pop music. It'll be fun to see how her career pans out since pop music is a very competitive market to breakthrough. However, Ashley J has a sound that is unique in nature, so I'm confident she can pull it off. She's had plenty of success so far as a new artist, and I can't wait to see what's in store for the future.
INSTAGRAM: https://www.instagram.com/ashleyj_music/
Review by Abby Wright