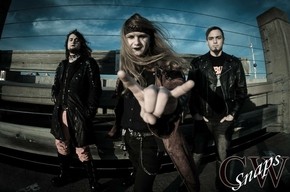 Okay now here we are and I am feeling real good. It is so good to see you all here again. Before we head out to Wisconsin and chat with Killing Rapunzel lets get some music news. First up, more than 70 million people attend Live Nation musical productions each year, and the company sells many of them tickets via Ticketmaster, which it also owns. Now, in an effort to reach consumers who never set foot in an arena, Live Nation is racing to crank out video and virtual-reality programming featuring acts whose concerts it promotes. Shazam, the world's most popular app for connecting artists and fans, announced the launch of Shazam for Brands. Shazam is known by consumers as the standard in music recognition, and will now unite brands with its global audience. The company is an ecosystem of hundreds of millions of global users, all of them making a personal connection to content through the app. So now lets met this metal trio band that goes by Killing Rapunzel. I found out about these guys thru Reverbnation and really find their music speaks to me and as I got to know them through this Q&A I find I was right. Join us today as talk about Trump vs Clinton 2016, making it in music or nothing, not being "Pissed On" anymore, and so much more!
Stoli: Where are we talking from today and are you excited for summer 2016?
Tonight, 2am, were all at our studio in Wausau, WI. And as for the upcoming summer, in short, we all think it's gonna be the biggest and most epic summer of our lives so far.
Stoli: If you pay attention to politics, does Trump vs Clinton make you feel good or bad about the future?
Everyone sucks equally to us…Han and Chewbacca 2016!
Stoli: Any plans to play or attend any music festivals this summer?
Were still waiting on hearing back from a few festivals as for the band playing at them, so as of right now we don't know for sure.
Stoli: At what stage in life did music become more than a hobby and where did the name 'Killing Rapunzel' come from?
As soon as we all graduated from HS in 2015, we all realized that it was either this or nothing, so we're in it for the long haul regardless of what comes our way. As for the band name, our lead vocalist, Dakota, has had long blonde hair since the age of 13 and was frequently picked on in the 6th and 7th grade for having such a "ridiculous" hair style…He often thought that he should cut his hair so the bullying would end, but then he realized that by doing that, they'd still pick on him anyway. The name "Killing Rapunzel" came out of his head in the midst of the whole time period due to the whole cutting of the long blonde hair thing, and we just stuck with it as a band name.
Stoli: What is the music scene like in WI and any cool music venues?
Metal is definitely not dead out here, but because it's the middle of a redneck state, "country" is the predominant thing…sadly…And as for the venues that rock your socks off, there are a few that we like. There is quite the wild punk/metal scene up in the northwoods city of Rhinelander. Madison has quite the active music scene as well at places like The Red Zone….Wherever you go here, chances are there is at least one venue that will harbor a harder music scene to come out of their hiding holes.
Stoli: I love your song "Pissed On." Who wrote that song and what inspired that song?
Dakota and I, Branden (Bass), wrote Pissed On back when we were still in High School and it's about how we're not gonna take any crap from people that put us down and we're not gonna be Pissed On anymore.
Stoli: How much time per week do you focus on the band and are you friends away from the band as well?
All day every day, every single week. Every time we're awake we're doing something for the band. We live this life because it's time for a band to actually rock the way a band should. And yes we're all friends outside the band. Dakota and I live together in a 34ft motorhome down by the WI river.
Stoli: What 1 or 2 bands or musicians have had the most impact on your band today and why?
Our band is impacted and influenced by literally everything we like to listen to. And that's not just metal and rock, we also like funk, blues, jazz and classical music, and pretty much else anything that doesn't suck noodles.
Stoli: Do you prefer when fans buy or stream your music?
We like them to enjoy our music in whatever medium they can get their hands on. We want to reach as many people as possible and if they truly are fans of what we're teaching and putting out in the world they will still buy our music in the physical sense.
Stoli: What is coming up for Killing Rapunzel and where you @ online?
We are releasing our debut album on June 11th and you can find us on most social media sites like Facebook, Twitter, YouTube, Instagram, Tumblr, Snapchat, Flickr, and of course killingrapunzel.com!
Be sure to hit us up and follow:
www.reverbnation.com/killingrapunzel
http://www.killingrapunzel.com