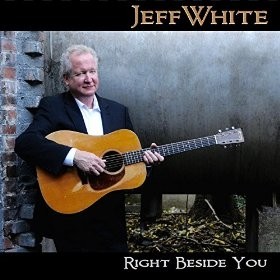 Some of popular music's best sidemen languish in mainstream obscurity throughout their careers. They earn the respect of their peers, profit from their talents, and leave behind a body of work that often casts a significant musical influence over future generations. However, these sidemen are rarely emboldened or afforded the opportunity to occupy the spotlight for even a brief time and, thus, audiences are ultimately exposed to one side of what are multi-dimensional talents. Jeff White has accompanied some country music's biggest legends – Loretta Lynn, Vince Gill, and Patty Loveless, among others, for multiple decades. His first solo album since 1999's The Broken Road, Right Beside You, is a thirteen song release and his third album overall. The album's songwriting is split between traditional covers, work from other songwriters, and a handful of White's originals. Right Beside You benefits from stellar production and White's ability to call on a wide cast of musical giants to guest on the tracks, among them Alison Krauss, Del McCoury, and Bekka Bramlett.
The album opens with the brief "Run Little Rabbit Run", a high octane bluegrass romp. The vocal has a light touch that compliments the melodic rush of string instruments and the players do a superb job of seamlessly weaving the various instrumental voices into a coherent whole. "Blue Trail of Sorrow", the first of White's original compositions, is a sure winner. The marriage of fiddle with string instruments is a classic move in the genre and the players, as before, admirably acquit themselves. White has an obvious facility with the genre's common imagery and his narrative of despairing over lost love is familiar, but exceptionally well done. The title track is another White penned number and takes a much more relaxed, conciliatory approach than the first two tracks. White's vocal soothes and massages listeners with its direct phrasing and inviting tone. One of the album's consistent instrumental strengths, its contributions from the violin, is particularly striking here.
White's cover of Bill Monroe's "Travelin' Down this Lonesome Road" is a memorable duet on one of Monroe's lesser known gems. If no other quality shined through, the album's lone strength would be its confident grasp of country and bluegrass music traditions. Listeners are in steady hands here. The addition of acoustic slide guitar subtly peppers the track. White turns his focus again towards classic bluegrass with a stirring cover of A.P. Carter's "Ain't Gonna Work Tomorrow". It's difficult to forget the resulting tension from White's decision to juxtapose such a gritty lyric against the sparkling playing he and his collaborators bring to each track, but this song goes a step further by hitting the mark with rich multi-part harmonies that add immeasurably to the song. The album's last original song, "Carry Me Across the Mountain", is an arguably darker effort than his earlier tracks. The "high lonesome sound" always cited as a hallmark of this strain of Americana is in abundance here and nowhere does that come across stronger than in the lonely, quavering harmonies punctuating the minor key instrumental musings.
Nearly twenty years have elapsed since Jeff White last graced the public with a solo album and the world has changed several times over in the interim. Some eternal truths remain – melodic music about real life subjects will always exert a tight hold over many imaginations. Right Beside You is a release from another time that affirms the enduring value of its chosen approach and never hits a false note throughout.
URL: http://www.cybergrass.com/node/5204
4/5 Stars.
Jason Hillenburg