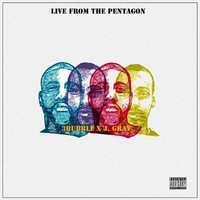 3Bubble & J. Gray's "Live From the Pentagon" nicely ties together elements of funk, jazz, hip hop and pop into a satisfying whole. Reminiscent of Outkast's style the songs are colorful vibrant pieces feeling fully alive. Pop culture references flow out of the duo, showing off their impressive delivery. Intelligent, thoughtful lyrics are the true highlight of the album as they bounce off of each other, reflecting upon relationships and the culture these are viewed through. Carefully selected samples find themselves woven into the album's DNA as their ear for melody and rhythm is impeccable.
Lead single "No Lie":
https://soundcloud.com/3bubble-j-gray/no-lie-wav
Playful in tone is the celebratory opener of "The Life". With sly delivery while still maintaining its giddy temperament the song is the perfect introduction to their sonic universe. A smooth sample serves as the anchor for the gorgeous song of "Euros". Coming forward with incredible power is the comforting bounce of "Don't Lie". Though the song has a party atmosphere the song itself is one that reflects on the downside of life, of how people try to brag about what they don't have and never do. Intimate in nature is the tender sound of "Studio". This sweetness continues on the equally emotional work of "Turn It Down". By far the highlight of the collection is the dreamy work of "No Lie" which at times feels absolutely luxurious. Ending things on a triumphant note is the grandeur of "What If I Told You".
"Live From the Pentagon" shows 3Bubble & J. Gray avoiding being easily pigeonholed creating an album that is deeply memorable and emotionally resonant.
https://www.facebook.com/livefromthepentagon
Posted by Beach Sloth