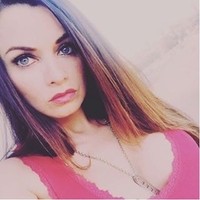 Based out of Los Angeles, Lexxica is a singer/songwriter who believes the best music embodies personal experience rather than functioning as pure product. Her upcoming sophomore EP plans to put forth another solid blend of EDM styles like electro, dubstep, and house that relies on melody and hooks alike to leave an impression on the listener. The first single from this future release, "Hearts Collide", expands on the potential heard on Lexxica's 2015 debut EP Only If You Want. She has since worked extensively with respected vocal coach Kim Wood Sandusky and producer Rusty Varenkamp to assist her with the next step in her artistic evolution. This well honed instinct for finding the right collaborators is a strength for Lexxica, but rather than buttressing her talent, Lexxica's collaborators help provides her with an ideal forum for performing from the heart.
The song swells into life and the cascade of keyboard and synthesizer sounds gives the opening a bright shimmer. Lexxica's voice cuts through the sonic tapestry from the outset with delicacy and sensitivity – her careful enunciation and phrasing works well with the song's initial sonic qualities to set a mood alternating between yearning and wonderment. The insistent pulse kicking in when the song begins in earnest gives the music a tangible urgency that never relents. There are two climatic points built into the track, a smaller one near the mid way point and a much more major break closer to the song's conclusion. These pivotal points are springboards into another major movement in the song and are superbly orchestrated. Much like rock music, it's important for ramped up dance pop like this to utilize dynamics in a way that compels the listener to pay attention.
The lyrics are much more suggestive than specific, but they are evocative enough that they conjure the song's desire and longing with great ease. The delicacy and sensitivity mentioned earlier is another important key to Lexxica communicating with her audience – there's a sensuality and focus in her voice that insinuates itself in listener's consciousness almost immediately. Lexxica emotes wonderfully in a genre where such singing isn't always highly valued and she rides the propulsive backbeat like someone confidently astride a steady, stalking beast. No one will mistake the lyrics of "Hearts Collide" for Shakespeare's sonnets, but that isn't the point of a pop song. Lexxica is looking to communicate a moment in time and does so splendidly.
Some performers have the mark of durability. Everything about her debut EP and this follow up exudes the sort of confidence needed to sustain long careers and Lexxica packs a tremendous amount of energy in this relatively small musical space. She's chosen fine collaborators to help her realize this artistic vision and there's little doubt that "Hearts Collide" springboards her from imminent stardom into the real thing. This is powerful stuff guaranteed to get a club dance floor moving.
URL: http://www.lexxicamusic.com/
RIPPLETUNES: http://rippletunes.com/album/Lexxica/Hearts-Collide-Single/1100540205/t0
Jason Hillenburg