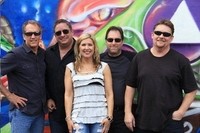 Sometimes Julie's "Bright Side of the Line" is sung with fire and passion. Arrangements are impeccable as Sometimes Julie incorporates elements of jazz, rock, country, and a little bit of blues. Through this careful balance Sometimes Julie creates an album that is constantly twisting and turning to create new perspectives. By far the highlight of the album are her fantastic vocals which soar. Lyrically the songs focus on the ups and downs of relationships. Her lyrics explore the complications that so often define a relationship the weird missed connections, the desire, and the love that ties all of it together.
Audio:
https://soundcloud.com/sometimesjulie/sets/sometimes-julie-bright-side-of
Things begin on a high note with the kaleidoscopic swirl of "Emily". From the horns to infectious groove, everything simply works. As the piece progresses Sometimes Julie shows off her impressive knack for incorporating a great variety of flourishes from flute to the languid dreamy passages. Deserving to be played as loud as possible is the celebratory "Bright Side of the Line". Tender in nature is the inviting sound of "Sanctuary". Breezy and sweet is the classic rock vibe of "Standing My Own Ground" right down to the sound of the organ vamps. Doubling down on the energy is the driving rhythms of "Another World". Serving as the highlight of the collection is the introspective sound of "When the Sun Ain't Shining"
Catchy, concise, and delivered with the utmost of care, Sometimes Julie's "Bright Side of the Line" is a fantastic free-spirited thing.
http://www.sometimesjulie.com
http://www.facebook.com/sometimesjulie
Posted by Beach Sloth