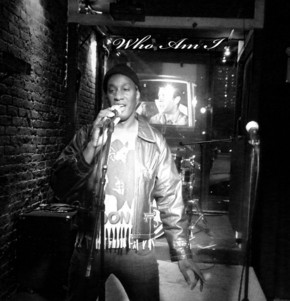 Good morning to all from rainy New England. It feels so #blessed to be here again and be alive and able to enjoy & share more Skope music with you today! Before we get to talking with Kenny Fame lets see what is going on in music today. Dubbed 'a website built by musicians for musicians,' the team at Firstdub are excited with the initial reactions to their new music platform. Firstdub is a music library open to musicians and producers of all music genres to upload, promote and sell instrumental music online via a personalized music store – http://www.firstdub.com. In other news, following on from last years success, ACM is to run its BASCA scholarship for a second year. With one lucky student having their courses fees funded in their entirety, ACM is on the lookout for a songwriting superstar – http://www.acm.ac.uk. And finally in other news, Utor, formerly branded as "DMV's the Move," broadens its concert coverage horizons with the use of Snapchat takeovers. Utor is broadcasting fans' experiences at live music shows via Snapchat all spring and summer long and drafting avid concert goers around the world to do it. So now lets head to Harlem, MY where we find Kenny Fame. Kenny is a musician who I admire for his fearless, honest, and unique music and overall persona. Kenny knows what it takes to create an audience and put out quality music as he releases his new EP, 'Who Am I.' Join us now as we chat with Kenny about spring in NY, how he was named Kenny Fame, going viral, and so much more!
'Who Am I' EP: https://kennyfame.bandcamp.com/album/who-am-i
Stoli: Where are we talking from and how are you feeling now that spring is here?
KF: I'm in Harlem, NY; where I live, and spring inspires me. I wrote my first poem which became my first song at 8 years old in the spring; and it was called "Spring".
Stoli: You are very popular with fans, but to those new to Kenny Fame offer us a brief on who you are as a man and musician?
KF: I grew up under an uncle that was a DJ, so music was the milk in my bottle formula that would eventually nurture me. My uncle and I were very close in age. He lived in the very next building from us with my maternal grandmother; who babysat my and my sister growing up. My uncle was literally everything to me back then. I remember him collecting vinyl records, and then he would mix those vinyl records all day long. As a kid I was amazed. He introduced me to all forms of music: soul, Motown, jazz, rap, disco, country, funk… and he appreciated my feedback because as the old saying goes "out of the mouth of a child…" he liked to see my reaction; I would like to assume. In a weird twist of fate my uncle died the day my first song "Rejoyce" was released.
Stoli: How did you get the musical alias, Kenny Fame?
KF: I began my career as a spoken word artist in the very competitive world of underground poetry in NYC. I was a part of many poetry circles and I quickly noticed the bravado of Slam Poetry. It was almost like rap music without the end rhyme. I was so new on the scene that I wanted a confident name that said I am going be somebody, before I even opened up my mouth and I felt that Kenny Fame did. I chose a name that reminded me of Billy Idol; and Kenny Fame did just that.
Stoli: Being that you are based in NYC does that offer you more access to industry insiders and what do you love about NYC life as a musician?
KF: In terms of connecting with the powers that be in the music industry possibly because they are all there (NYC), but as far as standing out musically I'm not so sure. In NYC everybody thinks that they have something great to share even when they don't. What I love about NYC is the fact that you have the opportunity to meet industry people that may in fact be able to help you, but the tough part is grabbing their attention, because after a while everything they hear begins to sound the same; and in many cases they probably do.
Stoli: You have a new EP out 'Who Am i'. How long were you writing & recording this new collection?
KF: Not very long. I had put together a showcase back in 2014 in support of my debut record. I get bored easily so I never like to perform the same song I recorded. I met an amazing guitarist that thought like me, so we retooled every song that I had recorded at that point, and in the process created arrangements for songs that were in my head; all of which became this record.
Stoli: I love your song "Friends." What inspired you to write that song and was it based on real life situations?
KF: Thank you very much. "Friends" was actually one of those retooled songs. I had sent Jack, who was my guitarist during my early showcase performances. I sent Jack an MP3 of the original version of "Friends", but he said he hadn't really listened to yet; but I was ready to rehears, so he told me to just sing it and he'll figure out the arrangement as I sung the lyrics. I would say about a minute later the live version of the song was done and I loved it enough to use it for a studio recording and to ask Jack to produce my entire album from his college dorm up in New York State, while I recorded my portion in NYC.
Stoli: You are constantly putting out music so how did you choose the 8 songs for 'Who Am i'?
KF: I did it reluctantly. My producer (Jack) came up with idea of calling the collection "Who Am i" because that was his favorite song we had done. He felt like the songs we recorded had a personal biopic kind of feeling, so I chose the songs that felt more introspective; but also the ones that felt like an ellipsis; that feeling of there's more to come…
Stoli: When you are not making music what other passions/hobby do you have?
KF: I'm always writing; If not music poetry or plays; I'm becoming more interested in theater and performance art. I am an avid art lover.
Stoli: These days of social media people will do anything to go viral for fame. How do you see this trend and how far are you willing to go for fame?
KF: I'm not sure how far I can go because it seems to be the randomness that goes viral.
Stoli: What is coming up for Kenny Fame and where you @ online?
KF: For the rest of the year I will promote "Who Am i"; which will be hard for me because I record and write so often and typically my most recent recorded song becomes my new favorite song. This year I will be working on my patience because some people believe that it is a virtue.
Website: http://kennyfamemusic.reverbnation.com/
Youtube: https://www.youtube.com/user/TheKennyFame
Facebook: https://www.facebook.com/LeviMusicHD
Twitter: https://twitter.com/1KFame
Tumblr: https://www.tumblr.com/blog/kennyfamemusic
Soundcloud: https://soundcloud.com/ken-catoe