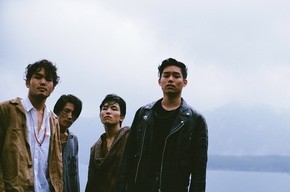 There's a theme running through the beauteous new EP by The fin. that permeates more than just the song titles. Oceanic imagery features heavily in Yuto Uchino's lyrics, as references to ship, shore and submersion loom large. The singer articulates these tales of impermanence and transition to a shimmering, sophisticated indie art-pop backing that will be familiar to fin. fans, even though there's a greater electronic influence to this EP, as synths carry more of the weight, melodically and rhythmically.
Opener 'White Breath' builds on its vehement piano/vocal intro to envelop a cropped hypnotic groove with springy keyboard stabs, dubby fx and, of course, Uchino's soaring harmonies. "I saw you jumped into the sea/What could you see from there?" the singer then questions to the symphonic arpeggios of 'Divers', set to a characteristically minimalist beat and crunchy bassline that segues into a second act of controlled yet quietly euphoric trance-pop.
The title track, 'Through The Deep' opens with a swell of surf guitar and thump of percussive kick drum that evolves into a stylish, deceptively complex composition that hums with sonic exploration and an ambient energy that will only tease the listener with its brevity. Even shorter is the 67 seconds of 'Heat', which finds The fin. at their most stripped down, just a wash of sine-waves, a sparkling melodic refrain and Yuto's distinctive tones proclaiming the sudden onset of intensity. Finally, 'Anchorless Ship' is a modest masterwork of smooth, uncluttered funk built on a sustained pulse resembling the sonar ping of a submarine's radar. A wash of synth then announces a change of course towards the tune's expansive, ecstatic coda, as Yuto sings about deeper immersion in dreams.