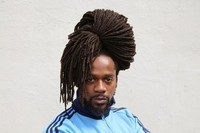 Wiseproof's "More More More More" effortlessly combines big beats and big ideas into a satisfying whole. His flow is absolutely incredible able to keep pace with the at times chaotic rhythms. Akin to glitch at times the relentless experimentation never gets in the way of the song's irresistible catchiness. Carefully adding layer upon layer of texture the song's positively hyperactive sound helps it to move forward at an unbelievable pace. At times the sound is reminiscent of an interesting combination of Oval's unpredictable beautiful melodies coupled with Prefuse 73's insistence on tight strong rhythms.
Watch the brand new psychedelic, philosophical music video for "More More More More:
https://www.youtube.com/watch?v=dpNFIN5MVR8
A small high pitched synthesizer introduces the piece. From here Wiseproof covers a great detail of territory. Percussion bounces off the walls as the song's giddiness is palpable. The production values are absolutely solid with every sound coming through with ultimate clarity. Sounds fold on themselves. With each additional element the piece grows increasingly more ornate. Melodies form out of this seemingly chaotic environment. Cleverly excited Wiseproof ensures that despite all of the sound he remains committed to the undeniably catchy melody. Hovering about the melody serves as the song's backbone, alongside the impressively delivered lyrics. By letting the sound collide into each other and bounce off with nary a pause, the song refuses to let up. Rather Wiseproof opts for the absolute domination of all.
Smart, sophisticated with a sense of style all its own Wiseproof's "More More More More" shows how good hip hop can be.
Posted by Beach Sloth