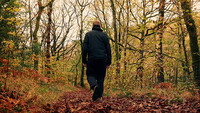 Peter Unger expresses his deep optimism in the world in the soothing tones of "I Am A Walking Man". With crystal clarity Peter Unger leads the way throughout "I Am A Walking Man". The slow yet gradual build is particularly satisfying. Every instrument adds to the passionate belief that serves as the song's backbone. Meticulous and elegant everything feels ideally balanced, keeping in sync with the song's lyrics. Carefully crafted it shows off Peter Unger's impressive rich voice. From his voice come profound truths of life, offering a sense of hope.
"I Am A Walking Man" by Peter Unger
https://www.youtube.com/watch?v=yhgCEZzZdFk
Hushed at first the song resembles his resonant guitar work is rather lush. The bass work hints at the much larger sound that comes into full view. Piano enters into the mix further emphasizing the fragile melody. Percussion offers a rather clever sense on the rhythm of moving forward, the slow and deliberate walk that occurs when one is figuring out how to move forward. Elements enter into the mix as the rhythm grows ever more intricate. On the final stretch of the song the sound moves into a more epic, grandiose take on the initial melody. Upon reaching its climatic crescendo the song fades out, giving off a contemplative sound and lingering long ever it has ended.
"I Am A Walking Man" shows Peter Unger's poignant insight into the happiness that exists surrounds and blankets the world. All that needs to be done is to be mindful of one's surroundings.
https://www.reverbnation.com/revpeterunger
http://spiritualjourneysinprayerandsong.com
Posted by Beach Sloth