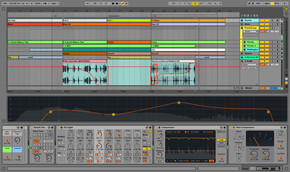 Ableton Live is a Digital Audio Workstation (DAW) and a software music sequencer that is good at producing music. It is also very much useful when playing live music. Therefore, with the people's desire to make music or listen to someone else's music, every music producer out there should be familiar with Ableton Live.
Fortunately, Ableton Live is a DAW that is available not only for PCs but for Macs as well. Being a non linear grid for music recording, you can use Ableton live to play your music ideas without a specific order. Therefore, this software can be used by just about anyone. However, the most appropriate people to use Ableton live are DJs and musicians.
Ableton Live is all about music. When you write and compose your music, you can rely on Ableton live for quick and effective response. Ableton Live also comes with smarter features that will take your DJ skills a notch higher. Above all, the flexibility and stability that Ableton Live gives you is just out of this world. Now, you can worry less about how big a crowd you have while on stage. All you have to do is, play your music and let Live inspire you.
Thanks to Massive Tutorial, you will be surprised to learn that Ableton is a software that deals with VST instruments support, MIDI and audio supports and it also has some great looping features. If you have used Ableton Live, you can bear me witness that it is one of the greatest software in the industry. Nothing is as great as making music with Ableton, right?
What is Ableton Live used for?
•Live Performances
A great majority of music lovers see Ableton Live as one of the greatest pieces of software for live performance. With Live and a laptop, you are good to go. Owing to the fact that this tool is capable of delivering remarkable results, I am sure with time, almost all gigs across the globe will be successful, courtesy of Ableton Live. The better part is, Ableton Live has numerous effects t choose from. For example, 'the Beat Repeat Effect' is known to be a please a crowd with only a few knob tweaks.
•DJ performances
At some point in life, you are bound to need the eservices of a DJ or better yet become a DJ yourself. Whichever the case, it is best that you know that Ableton is becoming the preferred choice for any Digital DJ out there. This is because, Ableton has everything and anything you could ask for when warping your files for a DJ set. With this incredible software, you can make a long tune with no jumps, no awkward transitions and definitely no cuts.
•Making Music
If you have an eye and an ear for music, and are interested in learning how to become a music producer chances are you have some music ideas of your own. To turn these ideas into a real musical piece, you will need to improvise and experiment this ideas with Ableton Live. Basically, Live is a software that helps you create an amazing song from your musical ideas and better yet you can perform this song live on stage.
BIO: Lamar Willis is a recording artist and a live performer. Through Massive Tutorial, Lamar has managed to up his game and become one the best live performers locally. To read more about his exciting music career, visit his website.