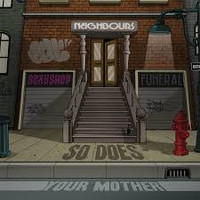 So Does You Mother is based in Rome. It was formed in 2009. They'd been working really hard before they launched their first full album called Neighbours (20th of June 2015). As they themselves put it, with the new album they "want to reveal themselves and their music; letting you enter, voluntarily or involuntarily, into their world". We've got the invitation, let's pay a visit to their neighbourhood and check out Neighbours.
These Italian experimentalists are truly bold. You understand it the moment you hear the name of the band. So Does Your Mother. How does my mother? So inconsiderate. Then check their logo. You see? They say: "Your mother approves". Who does have such a cool mother?
So Does Your Mother's music's sophistication satisfies the ear. It is as complex, as true jazz is; though the genre the band is working in, according to their own definition, is "progressive rock dance". Progressive rock – because of jazz influence, for sure. Less of dance, I would say.
Neighbours does remind me of Pink Floyd, as well as of Frank Zappa, – who knows, probably because of the band's collaboration with Ike Willis, who was Zappa's guitarist and vocalist for a long period of time. Well, I don't think, it really matters, – it is impossible to trace all the influences on any musician; and here we have a number of musicians, – each with their own impacts, – combining it in their collective work.
M.D. is a fun conversation-like tune, which represents a dialog between an unknown musician and a producer. The producer is sarcastically called "Devilger": "I want you to play your music for me, I want you to play your music for free"; and the artist is very excited about the meeting and the invitation made by the stranger, she is ready to do anything for a deal: "I don't need to eat, I don't need to drink, I only need to play, I'll be your servant anyway". Humorous and realistic at the same time it is.
Modern Seducer is an intricate rhythmical song with lots of changes and dynamics. The mood of it, just like of the whole set of the tracks, is playful and reckless. It is not lacking in heavy guitar riffs though, which lengthen into saxophone improvisations.
Your Mother will attract your attention with its name already. The track is impudent, it declares: "Your mother is mine". I like its light, funky tone. It will make you move automatically.
It is hard to distinguish and count all the effects used in the album, as well as the number of the genres of music put together to compose the style of the band.
In general the sound of the album feels broadly futuristic, – it's like it was produced in 1960s by people who tried to depict the world the way it would be in 55 years from then. Such an effect is made due to the electronic sounds, for example, those which game consoles are associated with.
Every tune elicits a smile; for they, in their Italian way, remind us that life is not a serious thing at all.
SOUNDCLOUD: https://soundcloud.com/so-does-your-mother
YOUTUBE: https://www.youtube.com/watch?v=sPHjAQ1bnJY
Anastasia Shanueva