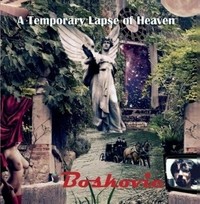 Luca Boskovic Bonini, artistically known simply as Boskovic, was born in Vicenza on a cold December day in 1970. He inherited his passion for music from his father, who daily listened to classical music and was mostly attracted to Beethoven, Bach and Vivaldi.
When he is 12, he casually buys a Beatles long play record and is completely overwhelmed by the British pop energy and, later, by the rock and roll of the origins. With the passing of time the influence of the Beatles music, in particular of Paul McCartney, will strengthen his awareness that music is the ideal and natural setting where he can freely express his sensitivity and artistic talent. The rest can be found in his bio at his website from where this official source comes.
A Temporary Lapse Of Heaven is a slice of heavenly delight in its own right. Very Beatles influenced, especially the backing tracks. But the vocals are very British sounding either way, especially for an Italian artist. That is a remarkable testament indeed but this music compels whether heavily influence-felt or not. There are other British bands in there from The Who and Deep Purple to others like Pink Floyd, as described elsewhere. The tracks all have substance to them, even though it is all very stylized because of his chosen genre. This can go either way in any artists' effort to express themselves but pay homage to where they got it all.
The CD kicks off mellow but nevertheless artistic, with "Just In Town," but you still don't know where it's going to go from there. You find out quickly by the time it's over that it's just a brief stay, but a great way to open the set because it entices for more. And more you get with the likes of "Everyday," which instantly grabs you by the ears. It's immediately apparent that Boskovic has presence behind his music. This track gives much way to what the whole disc is all about, and it's a walk in the park from this point on. Not only that, this is one of the best tracks at the end of the day, and you can listen to this every day. It just works for that singer/songwriter meets Britpop combo he handles with great care.
"Sun (born and die)" follows with a very Beatlesque motif to set it up, but from there it tends to sound more like Oasis. They actually carry the Britpop torch with much respect, so that is no complaint. I like the bullhorn vocal in this too. But it is one of the more repetitive tracks, but that helps whet the appetite for such a collection of songs. "Look And Fly" comes in the shape of a power ballad with a nice mellow groove spiced up with energetic breaks and a superb guitar solo. And this is where it gets undeniably awesome in every way. Another spooky Beatles resemblance comes in with "Looking For Some Songs," which goes all-out John Lennon vocal style. This seems to be a tough task because McCartney was the pop of their sound and John was very edgy. To cover both aspects without blatantly copying them is a clever feat for anyone. To be honest I didn't expect to hear that, but this brings it on like gangbusters.
Not to compare but the next track gets very Sgt. Peppers, but "Deep Moon" gets into that 1967 summer of love thing. It bubbles through itself nicely but isn't a big favorite number for me. And when this starts to happen you hope it will not continue down this road, to be critically honest. A good thing can be challenged, so it's always easy to spot a less than stellar point. I wasn't particularly inspired by this piece, but opinions can always very. But on "What You're Doing To Me," things get decidedly rocking and the previous track is fortunately left in the dust. This is a killer track that stands up to anything on the disc. And the Lennon factor comes on even stronger here, which has my full attention by this point. Excellent guitars here, very explosive energy. And the background vocals help seal the deal on this one.
As it continues in epic fashion with "Done," the standard is better kept with this nice little acoustic number with some great percussion. And the contrast kicks back in with "Time To Grow," but it does also contain lovely acoustic playing and generally follows the same grooves but more energy is applied. Love the string swipes left in, always a touch I welcome. This one also gets symphonic, but that is present in other numbers in The Walrus fashion. It's another good track to say the least but don't take every word of a review so seriously, as I am sure I missed something listeners might totally love.
"Good Vibrations" takes a Beach Boys title and puts another stamp on such positivity with a fairly energetic tune. This is followed by a piano ballad with 'You Can Do It." And the set closes with "Just In Town," but I could use these two in reverse, myself. Both maintain the standard that is found throughout A Temporary Lapse Of Heaven, which is a must seek for any Beatles or Britpop sound hound in today's landscape.
YOU TUBE: https://www.youtube.com/user/BoskovicMusic
FACEBOOK: https://www.facebook.com/pages/Boskovicmusic/179436975587011
9/10
Larry Toering