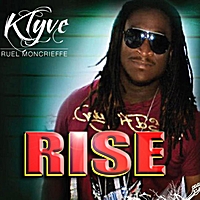 "Rise" is an inspirational collection led by Klyve's undeniable inviting voice. Full of bright color the songs positively shimmer with hope. The sense of purpose that drives the pieces forward is palpable as is Klyve's uplifting lyrics. In fact, the lyrics are what help to tie together the entire collection helping to outline an entire worldview. Melodies shine through carried by luscious luxurious grooves. A light touch prevails over the entire collection as Klyve lets the nimble percussion and lilting melodies soothe throughout "Rise". Klyve additionally offers a sense of duality on "Rise": by showing off different aspects of each track and different variations on the theme, Klyve is able to explore vast amounts of terrain.
Klyve "Rise Reggae" – VIDEO – 10/11/2016
https://www.youtube.com/watch?v=vL3IAMkTEww
Delicate and fragile, "Rise (Pop Rock)" introduces the collection off on a high note. Full of joy the song blooms quite wonderfully as the sweeping sound emphasizes the sense of purpose that the song embodies. By far the best track on the album is "Rise (Reggae)". Everything works on "Rise (Reggae)" from the neon-hued synthesizer flourishes to the playful melody. Right from the start of the track opens with a swirl of sound. Quickly everything begins to come together from the gentle keyboards to the steady rhythm. Slowly but surely the song grows in size with multiple layers interacting creating a comforting sensibility. On the final moments of the track the piece increases in intensity as the song fades away.
http://www.cdbaby.com/cd/klyvemoncrieffe
Thoughtful, sincere, and infinitely enjoyable Klyve's 'Rise" is an absolute feast for the ears.
http://www.keithhinesproduction.com/
Posted by Beach Sloth