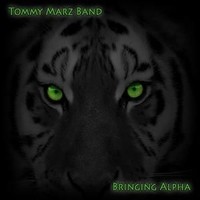 If you're going to proudly wear your influences as a songwriter and musician, you might as well wear them well.
Detroit native Tommy Marz – songwriter, multi-instrumentalist and eponymous frontman for the Tommy Marz Band — does exactly that in the band's latest album "Bringing Alpha."
The melodic hooks of 90's alternative rock are unmistakable, as are the edgy guitar riffs and vocal delivery. But the album is far from a retro tribute to the sonic heritage of bands like Stone Temple Pilots and Alice In Chains.
If anything, Marz's influences merely invite the listener to explore the deeper meaning of his music because of how familiar the record feels at face value. Without question, there's an instant level of accessibility, but it's careful not to compromise the music's integrity.
For a rock record, "Bringing Alpha" may tiptoe at times towards a mainstream feel, but the detours are short. This isn't pop rock; instead a mature statement, built on the foundation of a dark backbone to each track which belies even the album's brightest moments.
It doesn't take long to realize there's something deeper going on at the album's core – an onion that has yet to be fully unpeeled by both artist and listener(though you begin to feel like you're getting closer each time). There's pain and regret for sure, but also the embodying spirit of a survivor who is ready to step into his second act.
If every album is a manifestation of a journey — whether recent or accumulated — the coming-of-age quality to Marz's songwriting is refreshing.
Marz, who had previously fronted the rock band GoToZero for over a decade before going solo and spreading his wings into different genres, presents his most focused and complex work on "Bringing Alpha." Make no mistake, this is his all-in moment and the result is a tightly produced collection of nine tracks that equally share the wisdom he has acquired.
No song is a better example than the album's finale (and finest work) "Chasing The Tiger," where Marz equates his journey of chasing his music dreams to "a drug that won't stop calling you." The track is a powerful medley of song fragments, featuring driving riffs and the exclamation point of Marz's scream before the guitar solo.
It's clear very early that Marz has a knack for song arrangement, with many tracks taking unpredictable turns that are purposely jarring, yet far from off-putting. The music is allowed to spread its wings and take chances without the train staying for too long off the tracks.
Case in point is the insanely catchy "Space In Time," which alternates between foot-tapping verses soaked in the nostalgia of his Michigan upbringing and a much darker chorus, welcomed in by the lyric "Bye bye the innocence is gone, you didn't need me, you're never coming home."
The band is at its tightest and most cohesive point on the very polished "Star," which doubles as the album's most radio friendly tune. Marz shines here vocally, just as well as he does during the melodic guitar solo.
Marz borrows heavily from his 90s influences in the sunny "Super Overload," which fuses moments of friendly alt-rock choruses with dark and gritty guitar licks. The track does the same thing lyrically, celebrating his addiction to the song's female antagonist in question in one verse only to curse it moments later in the bridge.
The album's most underrated track just might be "Road To Nowhere," where Marz bares his soul once again about the frustrations that come with navigating the music business. It's unapologetic rock and roll at its finest, and is soaked in a vitriol of lament that provides the foundation for its grit. But it's not just anger for the sake of it; Marz's frustrations are underwritten by a lingering element of hope, executed perfectly by his exclaim of "You can't stop me!" in the anthemic chorus.
Whether it's the trademark scream he uncorks at the start of the album's rocking kickstarter "Born To Follow" or the sinister tone he delivers in the mysterious and dark "Room With A View," Marz does well to showcase his depth as a singer throughout. On "Common In Disguise," for example, he uses a delivery that is indistinguishable to his voice on any other track.
While "Bringing The Alpha" is far from a concept album, there's a context of unity to each track that binds the music together. With a total run time of just over 30 minutes, part of the album's charm is that it doesn't belabor or linger; instead it leaves you wanting more — not just from each one of the album's standout tracks, but from the songwriter himself.
Tommy Marz is weathered, if not bruised by his journey to this point as a musician, as evidenced by both the intensity of the music and the honesty of his lyrics. But his scars tell an interesting story and tease to the potential of the artist he is on his way to becoming.
By Brian Campbell – https://twitter.com/BCampbellESPN