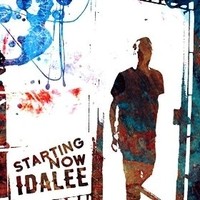 "I feel like I got a second chance at music after my accident – a chance to contribute – to create. For those who TRULY work for a second chance – I want them to get it." – a position of Indie rock singer-songwriter Idalee (Topher Hall). February 19, 2016 he is making debut with EP "Starting Now", presenting for presale on iTunes and Idalee.com.
Genre: Alt./Folk/Rock
Location: Leesburg, VA
The title is due to the author's feelings about his experience. And this is not surprising – because the singer personally understood the value of this life. Surviving after the accident he felt a second wind , and the inspiration to create. It's easy to feel in the mood of his music and lyrics . He decided to bring everyone in the world how important it is to appreciate what we have.
Nickname Ida Lee borrowed from the name of a park in Leesburg, where the young Hall and his friends spend their time causing problems during his carefree school days .
"Starting Now" is a folk-pop personal project is the story of a man who, having survived miraculously, got a second chance.
But the main idea of Ida Lee`s creativity is live by that you have, to love life and your freedom. Music rather belongs to the genre of indie rock, which is very suitable the Hill`s vox. The album is produced by Ethan Kauffman.Regardless of the artist he works with, Kaufmann brings out the best, adding the lush, musical flavor that has become his signature.
In addition , Idalee worked with non-profit organization Prison Fellowship (program biblically based and positive community, those who once broke the law can be transformed and mobilized to serve their neighbors, replacing the crime cycle refresh cycles) to record and release clip for premium "Heal" single. «Idalee and the men in prison created a music video together for the track, and weaved their personal stories into the fabric." – reported from the singer's website.
Text sent to the call not to give up:
"One day out and the next day in
When do we heal?
When do we fight for people that fall?
When do we heal?
Or do we press and release again"
Each of the songs in the album reminds short tale that tells a good wizard. The magic atmosphere created by soft vocals, the lyrics are stories of returning home, and the bright future endeavors .
"But I was allowed a second chance in the crowd,
And I feel like I owe my life to working this out."
Wild energy flows through this music – when you hear it you feel desire to dance or love.
"We were all younger once with stories we believed
Were only for us – they were our possibilities"
In general, you will listen the debut album "Starting Now" in one breath . Ida Lee was able to transfer all of your thoughts and feelings in music and words, so listeners can easily feel his mood and message.
I suggest you try this "Optimism incarnate" and enjoy all the experiences personally. Good luck Ida Lee and we are expecting from you even more!
Purchase Link: https://www.amazon.com/gp/product/B01AZG6K2K?ie=UTF8&*Version*=1&*entries*=0
URL: http://idalee.com/
Review by Alina Zum