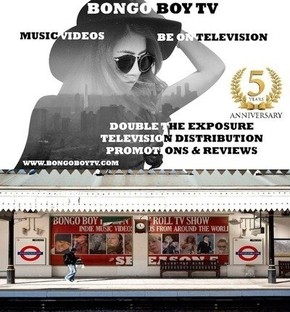 Bongo Boy TV is Television for Indie Music Videos on National Television since 2011. HEAVY ROTATION on 54 Real Television Channels including College Campus TV. The Bongo Boy Rock n Roll TV show series is DISTRIBUTED by the 11 Major Giant Cable Companies in The USA.
Each episode is also available on the GO INDIE TV ROKU in The UK, Canada and USA.
Always available 24/7 on: http://vimeo.com/channels/bongoboytv
More info: http://www.bongoboytv.com/
DYI Sponsorship comes with 3 Reviews published online and/or in magazines, Press Releases, TV Rotation and lots of Promotions for your music video and band.
Open genre, must be suitable all ages and follow FCC rules and guidelines. More info here: http://conta.cc/1Mcbg0s
Spring Special. Be seen in Cities like New York, San Francisco, Portland, Los Angeles, Nashville, Philadelphia and more.
17 Million household's television sets can see our TV show series with your music video.
Bongo Boy TV is filling the void that MTV once dominated.
Email: Bongo Boy TV your music video link – submit@bongoboytv.com
DYI Sponsorship applies when accepted. Submission is always free. Submit Today!