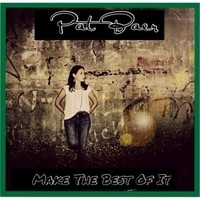 I had the chance to interview Pat Baer back in August, (http://skopemag.com/2015/08/07/moving-two-steps-forward-into-the-right-direction-with-pat-baer), and I knew then that she was an upbeat, positive person. And that is exactly what you are getting on her new album 'Make the Best of It'. The record features 11 tracks where "Make the Best of it" & "Turn It Around" are the newest songs by Pat Baer. Some of the other tracks are 20 years old so this project was undoubtedly a long, labor of love for Pat as the timing couldn't be better. Baer took a break from recording music in the 90s so she could focus more on her family, but she did play in a church group and was part of a wedding trio. All of Pat's life experiences have led up to this album and so the fire had been burning all along inside Pat. Pat Baer says it best here leading up to the making of 'Make the Best of It', "Some people asked me why I was giving up music. But I wasn't giving music up; I was getting into MY music again. I am very happy with this time of my life! Synchronicity is taking over! Things are finally falling into place."
This singer/songwriter from New Jersey has rock & roll roots but incorporates so many different elements on this record from Pop and Folk to Country and Blues. It's easy-listening, it's adult contemporary…it's Pat Baer. Push play and right away you her peppy and cheery vocals with a catchy hook on the title track. You get hopeful & inspiring lines on 'Make the Best of it" like "pray for peace" and "keep moving forward". Next up you will get laid back, beautiful and pleasant melodies on the songs "Turn It Around" and "You Remind Me Everyday". Track four, "Time Slips Away", offers up a tender sweetness that's comforting and comes across as a lullaby. Next up on "Stuck Here in This Body", the listener will hear a cool, country sound with soft-spoken singing at its finest. Track six, "Peace or Greed", has such wonderful harmony while track seven, "Man in the Moon Keeps Spinning Around", is such a good time with a fun, little beat. "It'll All Be Going Away" is a song that contains a tropical & tribal vibe while "Drowning in Muddy Water" hits you with a real upbeat & soothing sound that's inviting. "Time of Illusion" is a perfect, storybook ending for Pat Baer proving that timing is everything.
'Make the Best of It' hopes to open minds and give people hope through positive lyrics & music. Pat Baer sings from the heart and bares it all. Living your life through love is a strong message on this album and one that Pat Baer wants to spread to the entire world. Pat Baer tells us to 'Make the Best of It' and so what better time than now!
https://www.reverbnation.com/patbaer
http://www.starvingartistpromotions.com/
By Jimmy Rae (jrae2@att.net)